Remote Working Q&A with H&S Director Peter Kinselley
In light of recent events surrounding Coronavirus (COVID-19), we want to provide expert guidance on dealing with some of the issues surrounding remote working. This is an opportunity for you to pose questions to our H&S Director among like-minded industry colleagues, who will all be dealing with similar issues. Choose from 4 times and dates (all session times in GMT).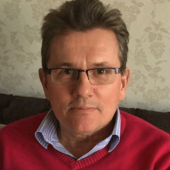 Come and sit down virtually with Peter Kinselley and get an opportunity to put your issues to him.
The next few months or so may be incredibly difficult as responses to the COVID-19 materialise. We want to support you through this by providing a platform to ask about issues surrounding remote and lone working for a temporary period. This will be a practical discussion about some of the things you can do, while recognising the difficulty of creating an ideal home working environment.
Here's some of the things we"ll be discussing:
Ergonomics risks
Equipment requirements
Where they will be working
Psycho-social issues
Fire and emergency plans and more.
Addressing issues for a range of employee needs, such as disabilities
Choose Your Time and Date: