On Thursday 16th June 2016, we headed underground, at the Churchill War Rooms in fact, to bring some of the greatest thinkers in modern ergonomics together for thought-leading forum. Introduced by Jon Abbott (Sales and Marketing Director at Cardinus), we had talks on poor posture, the story of DSE software and some mind-sharpening stats on sit-stand stand desks, as well as drop of sparkling wine in one of London's most fascinating historical sites.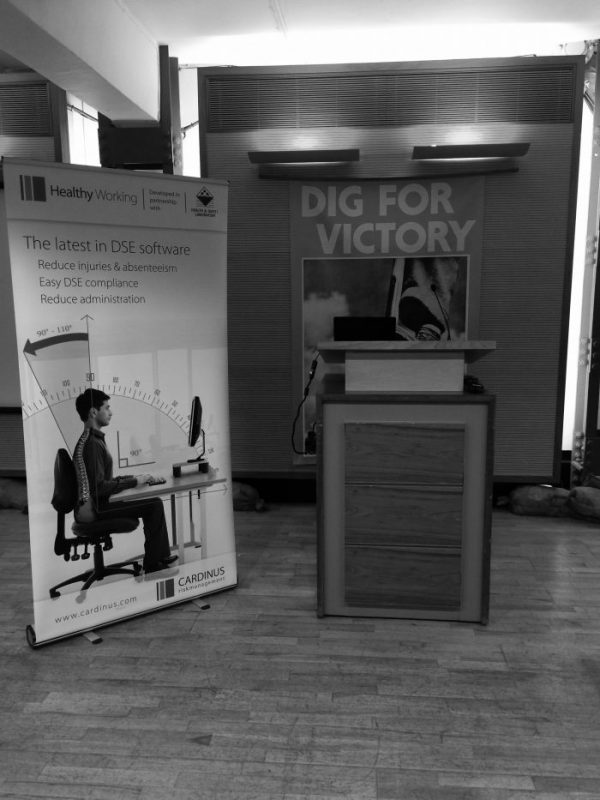 We began with a talk about the oncoming health issues of young people due to habitual mobile device use coupled with a poor understanding of posture delivered by Jon Abbott and Ryan Pavey (Associate Director of Marketing at Cardinus).
Following on from that the Health & Safety Laboratory's Matt Birtles gave his view on how the original 1992 DSE regulations had the flexibility to hold up to scrutiny in today's modern workplace. But as so much time has passed and they look to update their guidance, they've recognised the necessity for updating this for a modern era and the different ways we work.
Following a short tea break, with some delicious cakes and biscuits, we sat down to hear a talk on sit-stand desks and their proper usage from expert Stefan Ijmker PHD, Sit-stand desks are hugely popular right now, but sometimes their usage doesn't always work for the environment they're in, and different workers with different needs can sometimes find them to be obstructive, however when used properly they're hugely effective. Did you know that for call centre workers, adopting a sit and stand approach can make workers much more productive? This is the sort of illuminating piece of research that Stefan's talk was littered with, and you can see his slide deck below for a taste of how it went.
Finally we heard from Guy Osmond of Osmond Ergonomics with an at times amusing account of the evolution of DSE equipment and technology from Osmond Ergonomics' own product line and beyond. Just take a look at some of the old tech in his slide deck for a taster.
Our audience thoroughly enjoyed the event and we're thankful to all who came as well as the speakers who took part. Take a look at their slide decks below to see more.
4 presentations from our Ergonomics Forum in London, 2016:
Jon Abbott and Ryan Pavey's opening talk: UK Ergonomics Forum from Cardinus
This deck, delivered by Jon Abbott and Ryan Pavey, at our UK Ergonomics Forum in the heart of London's Whitehall area, focused on child and adult health issues, with a particular focus on poor posture. A fight that Jon is actively taking on, both speakers talked about the onslaught of health issues related to mobile and tablet devices and poor posture with an eye on how that will narrative will play out as they enter the workforce.
Speakers' LinkedIn Profiles: Jon Abbott and Ryan Pavey
Matt Birtles – DSE Regulations and Life
DSE Regulations and Life – Matt Birtles from Cardinus Risk Management
With HSE guidance on the DSE regulations currently being re-drafted for publication later this year, Matt Birtles looked at how the original regulations match up to requirements. We also heard from him on where we've come from in terms of DSE guidance and risk management, the efficacy of the regulations on the DSE Directive over the last few years and we got an understanding of the foreseeable upcoming changes in the next draft of the L26 guidance from his colleagues at the Health & Safety Executive.
Speaker's LinkedIn profile: Matt Birtles
Stefan Ijmker PHD – How to Get the Most Out of Your Sit-Stand Furniture
In this talk from Efficiency Software's Stefan Ijmker, we hear how organisational take up of sit-stand furniture has increased. But, that does not necessarily reduce the risk of work-related injuries, especially if this furniture is not used correctly. Stefan shows us how using sit-stand furniture correctly can reduce risk and work-related injuries.
Speaker's LinkedIn profile: Stefan Ijmker
Guy Osmond – How Technology and Ergonomics Work For and Against One Another
In his talk, Guy Osmond provided  an overview of posture-related product and technology developments over more than twenty years and discussed the way employers have approached their workplace ergonomics agendas. He outlined the dramatic changes to the workplace in recent years, the challenges these create and the effectiveness of modern ergonomics programmes in this evolving context. Finally, he gave us a view on possible future developments and interventions, particularly with attention to agile working practices, handheld devices and wearable technology.
Speaker's LinkedIn profile: Guy Osmond
We'll be hoping deliver more unique ergonomics experiences such as this in the future, so please keep an eye on our events list for future events. You can now request a free, no-obligation demo of our latest DSE software, Healthy Working. Click here to book.