Healthy Working is the latest DSE software from Cardinus and represents a revolutionary approach to ergonomics e-learning. Building on our hugely successful DSE software, Workstation Safety Plus, which has reached over 2,000,000 end-users across its lifetime, Healthy Working promises to go even further.
Since the last DSE guidance was updated all the way back in 2002 we have seen massive technological and environmental changes in our workplaces that have fundamentally altered our relationship to working.
We understood that the gap between the software and the actual working environment was widening; Healthy Working was built to bridge that gap.

Developed in partnership with the Health & Safety Executive's Health & Safety Laboratory, and specifically principal ergonomist Matt Birtles, this new software features the latest thinking in ergonomics. Not only does it manage to capture everything required by DSE regulations, but it moves much further beyond them, encompassing environmental and behavioural features that meet the way people really work in the modern office.
As such, Healthy Working offers plenty of innovative features that seek to revolutionise an organisation's DSE provision, such as variants like multi-screens, mobile and tablet devices, flexible working, maternity and pregnancy, employee behaviour modelling and much more.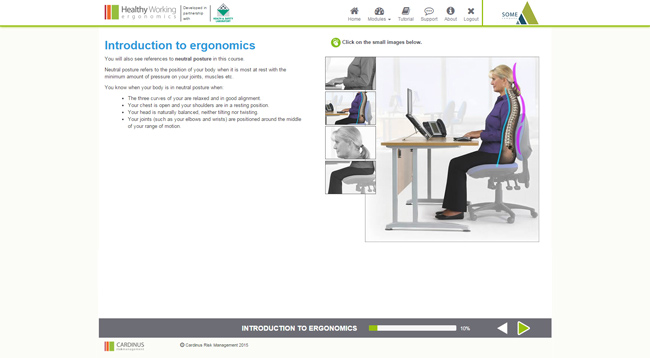 The above screenshot shows an introduction page that provides information to the user on some of the basic tenets of office ergonomics.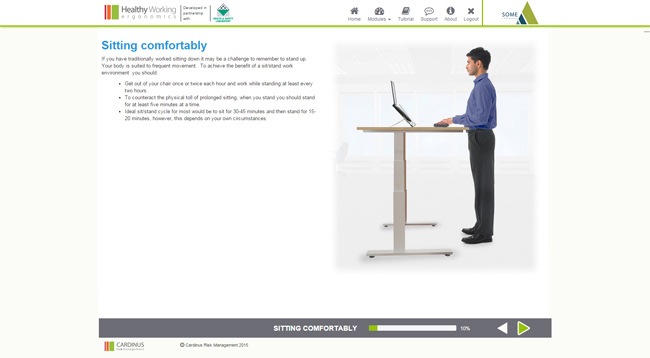 This tool is fully customisable and can be white labelled, meaning that you can make it look and feel like an internal program.
Go beyond the regulations
Healthy Working does much than just meet the DSE regulations; it offers a way to help meet your employees' and managers' needs by giving you a flexible, robust platform for your DSE provision. For managers it provides an opportunity to evidence a very clear return on investment, by matching potential risks with associated costs. This helps to map out the effectiveness of your DSE programmes with the sort of transparency required by your organisations.
Some of the areas that this can cut costs in include administration, lost time due to absences, productivity savings and healthcare provisions for employees.
For employees it's better too. Healthy Working has smartened up and has a multi-variant funnel that is far more specific for employees. This means that they can select the modules that apply directly to them, the program then cleverly adapts to their requirements and only shows the relevant training. This means higher levels of compliance. We've also introduced a risk assessment centre too, so that employees can now view how they're at risk and what they need to do to mitigate it.
Jon Abbott, Sales and Marketing Director of Cardinus says ""I am so proud of the Cardinus team for the efforts that have gone into developing Healthy Working. As the workplace evolves we are seeing the needs of employers and employees changing. Healthy Working addresses these on-going needs by providing engaging materials to encourage better behaviours and working habits.
Healthy Working represents a thought-leading, innovative solution that could only occur when two influential organisations (HSL and Cardinus) work together so well."
Interested in seeing how Healthy Working could work for your organisation? Then why not give it a test? Click here to test this fantastic new DSE software for up to 5% of your organisation.
We have a range of DSE and ergonomics software solutions that can help you with other areas of ergonomics too. Find out more at the link.