Hollie Smith unpacks her experience in managing ergonomics programmes and gives her top tips for success.
In the 25 years Cardinus has been involved with office and laboratory ergonomics we've seen 1000s of different approaches to getting programmes to work. Some have been a huge success, and some have floundered, with little strategic thinking behind them and no buy-in from key stakeholders.
Working in both regulated and non-regulated territories has allowed us to see some of the best and worst approaches in very different markets. But the thing that ties successful programmes together is always the same.
What makes a great ergonomics programme?
Senior leadership
To begin with it is vital to get the senior leadership to fully embrace what you are doing. This will create synergy between the strategic objectives of the organisation and the investment in your programme.
If the CEO and board aren't engaged, then don't be surprised if the programme is a flop. Even if you are just doing it for compliance purposes make sure that the first people to get involved are your directors and senior teams.
Communication
Get your CEO to communicate why your organisation has chosen to invest in this programme. This should go out to all your staff to ensure the message is understood by the whole organisation.
Whether this is part of the overall health and safety message or a dedicated ergonomics campaign, it doesn't matter. The key is to make sure the programme has this top level buy in.

The Message
Think about the message and the outcome you want. If you're in a regulatory environment, one of the main reasons for investing in the programme may be compliance. But this is a poor message to communicate to your staff. They do not want to hear that they should do something because they must. Instead, to achieve compliance your message should need to be more considered.
The best results we see are when clients focus their message on employee health, wellness or wellbeing. Compliance will then follow as a by-product.
When you get the CEO to communicate a message that says, "I want you to go home to your family in the best health you can be without the company causing you pain and discomfort" the uptake in completing risk assessments and training always improves.
The Medium
When you get the communications message right you need to make sure you use all the tools at your disposal to keep promoting and communicating it. One size does not fit all, but as a general rule you need to keep momentum going and chase it with different themes and different mediums.
For example, if you have a 'National Back Ache Week' or a 'Let's Get Active' campaign, as one of our clients recently held, the key is to keep dripping the message through a variety of mediums.
There are many types of mediums that you can use to communicate with your staff, including:
Internal emails
Intranet posts
Posters, flyers, letters, stationary and other printed promotions items
Wellbeing events with mental and physical health specialists, games, competitions, and other fun activities
Community-based events, which may include charities, families or the wider-business community
And many more!
Where we manage our Healthy Working software solution for clients we spend more time on the communications approach than any other aspect. We want our client staff to see our software to improve their working lives and not just to satisfy a regulatory requirement. As it happens the better we communicate the better the compliance!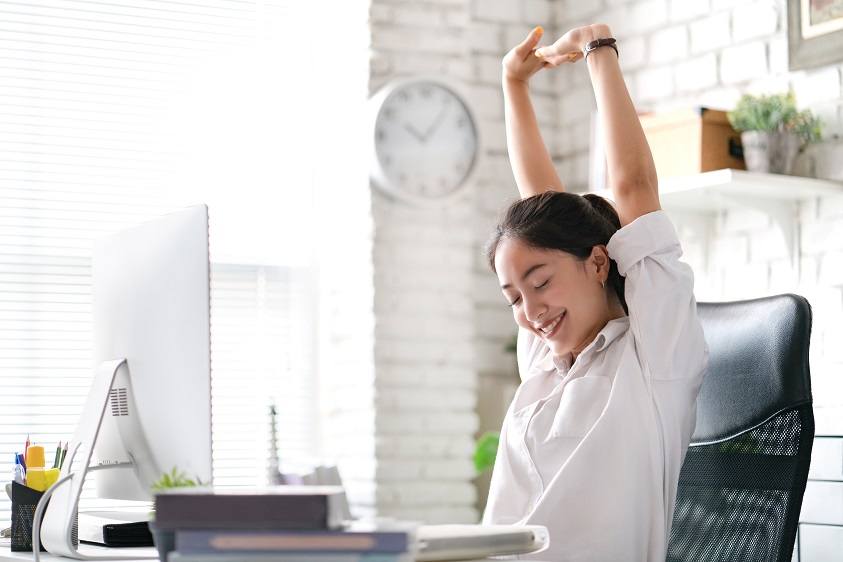 Communicating the Quick Wins
When reports come in from employees that the investment you have made is helping them to lead happier and more productive working lives, you need to be shouting this from the rooftop. Organise case studies and testimonies so that you can evidence that your ergonomics programme is making a difference to colleagues. When you get that feedback include it in your communications campaigns.
This feedback loop will ensure greater take-up and help to reaffirm the central message behind your campaigns. It will make a huge difference and will help your campaign to be a success.
Rinse and Repeat
It's important that you are measuring the impact of your communications campaigns so that when you can both show the success of the programme to key stakeholders and so that you can improve on the hard work you've put in.
Perhaps the message worked on some of your staff but not others. Perhaps the mediums you chose didn't quite fit the campaign. By measuring your campaigns, you can make alterations in the future that will help to bring greater levels of success and more happiness to your staff.
Good luck with all your future programmes!
Do you need help managing your DSE Programme? Our DSE Managed Services team can help improve compliance rates, employee health and much more across your business.
Get in touch with us at [email protected] or call us on 0207 469 0200 find out what we can do for you.