Cardinus Risk Management won the award for the International Risk Initiative of the Year at the International Institute of Risk and Safety Management (IIRSM) Risk Excellence Awards 2021.
Since last March, we've been working really hard to provide the solutions that our customers need, so it's with great joy that I can say that all that hard work has been recognised.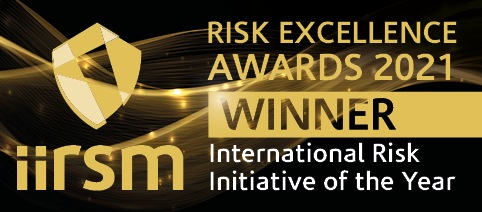 Cardinus has won the International Risk Initiative of the Year award at the International Institute of Risk and Safety Management (IIRSM) Risk Excellence Awards 2021.
Our submission told the story of a year where we had to adapt quickly to a rapidly changing world. In particular, our global ergonomics solution allowed organisations to deliver the help their employees needed to work comfortably and safely from their homes.
But more than that, it brought together all our expertise and knowledge of applicable regulation, cultural requirements and ergonomics at home.
What Did Our Submission Look Like?
We tried hard to understand the issues that our customers were facing. We feel it looked something like this:
Organisations reacted to the pandemic by recentralising ergonomics programmes and delivering a single solution across their enterprise
Organisations did not understand their regulatory obligations around the world for home work
Supply chains were affected, and organisations struggled to get ergonomics equipment to employees
In some cases, ergonomics equipment could not be provided as living arrangements were too small
Many organisations were effectively starting from scratch, so we sought out ways to help them.
By mid-April 2020 our team had developed and launched our risk initiative. It incorporated all the key aspects that customers would need to understand their issues and the solutions to help mitigate them. This included:
A free-to-use Global Guide to Ergonomics Regulation and obligations in 191 countries
Pragmatic e-learning course addressing real-world training requirements of temporary homeworkers
Free-to-use email templates for homeworking and wellbeing
A global network of certified virtual ergonomics assessors
Where organisations provide a financial stipend for equipment, we produced a guide to help workers select equipment at a time when supply chains were badly affected
Free-to-use COVID-related ergonomics and comfort resources
COVID-related ergonomics webinars, reaching over 400 health and safety professionals
This initiative reached thousands of customers, including many large organisations working in pharmaceuticals, banking and gaming.
But ultimately it was our flexible approach with a product set that we adapted quickly that customers found value in. We were really able to tailor our approach to each client, which really helps when things are changing so rapidly!
Underpinning Our Solution
What lies behind all the solutions we sell is a brilliant and world-beating customer service team. Over the 25 years Cardinus has been around, we've always strived to focus on our customers.
This led us to create the Cardinus Gold Standard, a set of rules or principles to live by. It asks a series of 10 questions we ask of ourselves in everything we do.
This includes things like, 'do we understand each individual customer's unique business needs?', 'are we delivering to a high standard?', and 'are we striving to innovate and lead the field?'.
It's important to live by our values, and the Gold Standard is our way our doing that. It encourages us to think and question our work, which ultimately has underpinned the way we've adapted during the pandemic.
On the victory, Marcus Noble, Customer Services Director, said, "I'm thrilled for the team that we've been recognised for our hard work, especially during such a difficult period. We spoke to many of our customers in all regions and countries in the lead up to lockdown so that we could understand their unique business needs and point of view. The conversations we had were open and honest about what we could develop together depending on how long the 'new normal' was going to last.
We pooled together all our people, knowledge and skills within the business to develop and deliver a highly professional product over a very short period.
Delivering an excellent customer experience is our passion so it was hugely rewarding to receive feedback from our customers that filled us all with great pride and a belief that our products and solutions were making a real difference in the changing world".
Contact Cardinus to learn how we can help you deliver better outcomes for your global workforce.