Recently Seattle City Light decided to augment their employee wellness programme by trailing BAX-U posture devices. Keith Osborne and Dr Romina Ghassemi share the results of their trial with us.
Workplace injuries impact businesses on multiple levels and in multiple ways. Worker comp claims, days away, presenteeism, drops in productivity are all issues impacted by workplace injuries. Here at Seattle City Light, our 6-year Strategic Initiative has directly targeted workplace injuries to not only lower injury rates, comp claims, and other negative metrics, but to also significantly improve our worker's wellbeing, so they can enjoy the Other 16. The Other 16 is an initiative born out of our grassroots efforts and focuses all on how to create a safer workplace, so employees can go out and enjoy time away from work- the Other 16.
Part of the focus on safety was also to build a multi-faceted ergonomics programme that integrated wellbeing initiatives together to enhance worker productivity, comfort, and satisfaction. Over the last four years, in support of the Strategic Initiative, the combined office and industrial/field ergonomic process has proactively saved City Light over $23M in potential costs. Even with that success, I felt there were other things we could do.
Enter the BAX-U Case Study. With the help of Dr Romina Ghassemi, founder of Think Healthy and developer of the BAX-U posture device, we ran a 12-week case study using the device in an office setting with 53 participants. The goal of the case study was to explore ways to incorporate wellness into an already successful ergonomics process. Additionally, we wanted to be able to provide employees proven avenues (based on case study data) to explore to improve their wellbeing both at work and at home.
Participants had to meet certain criteria to be involved. They had to be users of our online risk tool, be willing to give the full 12 weeks needed to complete the study and have areas of discomfort that would benefit from the device's use. Requirements for participation were that the participants complete an initial assessment, answer a mid-study questionnaire, and then complete an exit assessment at the end.
From the beginning of the study, we had positive metrics to report. 92.4% felt an immediate difference when they first wore the device. 56.6% felt immediate pain relief after the device was fitted, with many showing visual improvement in their postures in our fitting room.
Analysis of the initial assessment found the following:
Initial Risk categories for the participants
High Risk – 20 (38%)
Medium Risk – 13 (24%)
Low Risk – 20 (38%)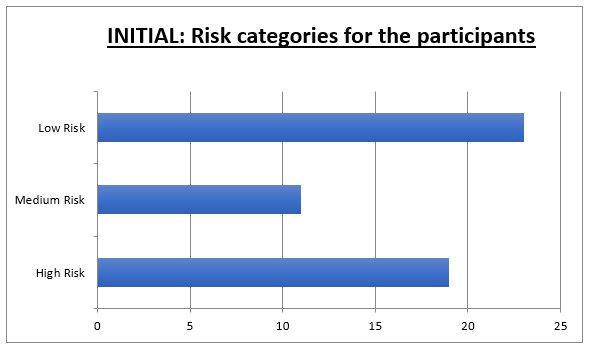 The overall risk score for the group was 853 compared to a utility-wide risk score of 300. Lost productivity was measured at 41 minutes per day within the group compared to 30 minutes for the utility. This translated, based on our GAP assessment, to $14,717 in annual lost productivity for the group compared to $10,955 for the utility.
Our mid-study questionnaire focused on the immediate impact of the device, how often they were wearing it, and if the device made employees more aware of their work and how ergonomics impacted it. Other questions focused on what was most affected by wearing the device and if they wore it while exercising.
Out of the respondents, 88% felt an immediate difference when wearing the device while 56% wore the device between 3-7 days a week. Over 80% felt that proper chair use was noticed the most, while 30% stated they forgot they had it on. Over 90% felt that posture awareness was affected the most with BAX-U, followed by discomfort/pain mitigation. Only 26% tried wearing it while exercising, but that was not really the focus of the study. Almost 70% said they would buy one for a family member or loved one.
Exit result for the risk categories showed the following shifts:
Exit Risk categories for the participants
High Risk – 10 (18.8%)
Medium Risk – 13 (24.4%)
Low Risk – 30 (56.8%)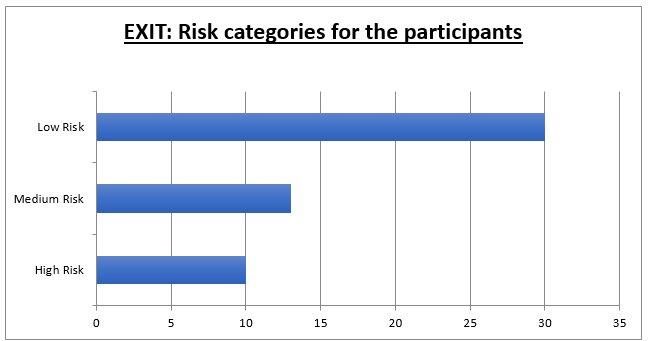 The takeaway here is that we were able to reduce the number of high and medium risk employee but also, those who were still high risk saw their overall risk score drop significantly. Additionally, there were other very positive metrics from the study.
A 63% improvement in overall group discomfort levels in the targeted areas (head, neck, shoulders, back) with a 75% improvement in neck and back discomfort specifically. The risk score for the group dropped by 45%. It is still 23% higher than the utility overall but a huge improvement was shown in only 12 weeks. There were also large improvements in productivity gained back both in minutes and money.
Although limited in scope and size, this was a very successful case study showing how using the BAX-U device in conjunction with a sound ergonomic process can enhance the wellbeing of an employee base. This case study should go a long way in being able to introduce BAX-U to more of the employees here at Seattle City Light as an additional wellness tool to be used to improve their comfort.

All of which positively impacts productivity, morale, and employee satisfaction. We are also looking at a potential study using the new BAX-U posture shirt in a test with our field workers. That decision is pending the publication of the results of this case study.
Find out more about how BAX-U can support your employees, or for information about any of the subjects raised, email [email protected].