Incorrect manual handling is one of the most common causes of injury at work [1].  It causes work-related musculoskeletal disorders (MSDs) which account for over a third of all workplace injuries.
Manual Handling definition:
"… any transporting or supporting of a load (including the lifting, putting down, pushing, pulling, carrying or moving thereof) by hand or bodily force"
Manual handling injuries can happen anywhere people are working – from farms to building sites to office environments (and everywhere in between) and making deliveries.
Risk factors can be broken down into TILE (Task Individual Load Environment):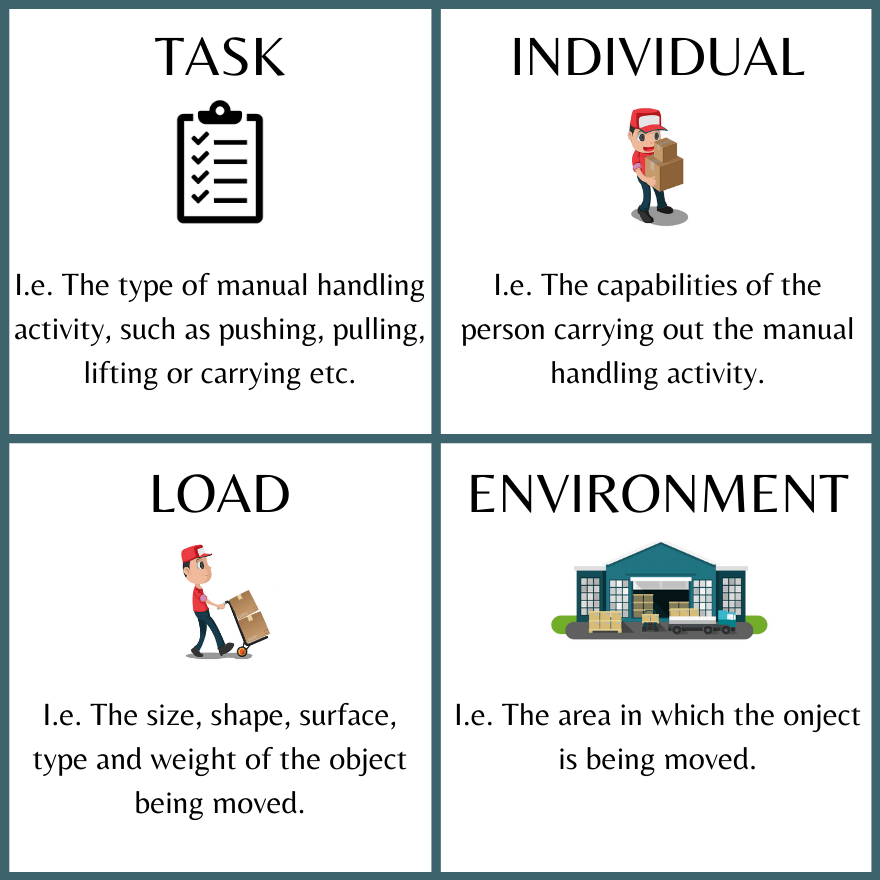 There are a number of considerations when assessing manual handling risks:
Avoid – the need for hazardous manual handling, as far as is reasonably practicable
Assess – the risk of injury from any hazardous manual handling that cannot be avoided
Reduce – the risk of injury from hazardous manual handling, so far as is reasonably practicable
The HSE's guidance on Manual Handling at Work sets out the regulations employers' will need to apply.
However, employers also need to take into consideration the environment that manual handling is being carried out:
Space – is there enough space for the task to be carried out safely? What can be done to improve the space available to the handling operation?
Route – if the manual handling involves moving along a route its vital that you walk the route and check; is that route accessible, clean and clear? Remove any hazards (such as trailing cables or rubbish) and clean up any spillages.  Can doors be held open, and, if those doors are fire doors, will they be closed immediately after the task is complete? If you are loading or unloading a vehicle you must also consider the route from the vehicle to the building.
Slopes – avoid manual handling on slopes. Check for any uneven floor surfaces.  If unsure, use a levelling device to determine whether the floor has an incline.
Temperature/visibility – is the temperature too hold or too cold for the manual handling operation to be carried out in comfort and safety? Is the lighting adequate?  Are there extremes of lighting, e.g. glare and shadow?
Outside – are the weather considerations suitable for manual handling? Is there a risk from wind or other air movement? Is it raining or other issues which make the ground slippery? Are the handlers wearing appropriate footwear and gloves?
PPE (Personal Protective Equipment) – is PPE required? If yes, you must consider the task and working outdoors.  Consideration should be given to non-slip shoes or Hi-Viz clothing (if working outside)?  And you also will need to assess if the PPE will interfere with manual handling operations by making movement more difficult?
Reporting – all environmental hazards affecting manual handling processes must be reported as soon as possible and, if necessary, steps taken to minimise or eliminate risk.
Unsure whether you need to carry out a manual handling risk assessment?  Or your duties as an employer? Or whether the environment is suitable?  Cardinus can help and support your business through the process.
Cardinus encourages measurable behaviour change from your employees, we can offer manual handling e-learning and/or onsite training.  An optional self-assessment will help you identify which of your employees are most at risk of injury.
---
[1]          Manual Handling at Work
https://www.hse.gov.uk/pubns/indg143.pdf
---