Anna Clark asks for your help in combating the impact on your future workplace by increases in MSDs in young people.
Cardinus has embarked on an essential piece of research to understand the association between ergonomics injury caused by technology use and the impact on employers who will be recruiting these young people in the future. As the lead researcher in this project, I am asking for your help.
Cardinus is conducting a research study with the UK's University of Salford into this issue and I believe it's outcomes will show the massive scale of the issue and the need for employers to take note. However, to improve the outcomes your workplace data could be just what we need.
What we're doing
I'll be conducting a longitudinal study looking at technology use and young people. I'm keen to explore how this technology use may be affecting young bodies and the impact this may have on the future workforce when these young people enter it.
We know that technology use has increased, we know the risks of ergonomics injuries associated with technology, but what we don't know is how these elements will link together and affect the workplace of the future.
This is what our research with the will aim to deliver.
We will be heading into schools using a cross-sectional sample of our target population from 5-16-year-olds, with a methodology framework that will work towards building a longitudinal study that will truly uncover the level of risk and help us to understand how to combat it.
Here's what we know so far
Where Cardinus clients allow it, they have been able to utilise aggregated data from Healthy Working (Cardinus' office ergonomics software) to identify those leading indicators that may cause us to change the way we work.
A few years ago, Cardinus started looking at what the next big thing is in terms of office ergonomics. They looked at the ageing workforce, but most of the companies have good policies and practices in place to support this part of the workforce. They also looked at sit-stand desks but found lots of existing research into the area.
However, they noticed something that is pretty much still unnoticed by the ergonomics and occupational health community. This is young people presenting with ergonomic injuries entering the workforce.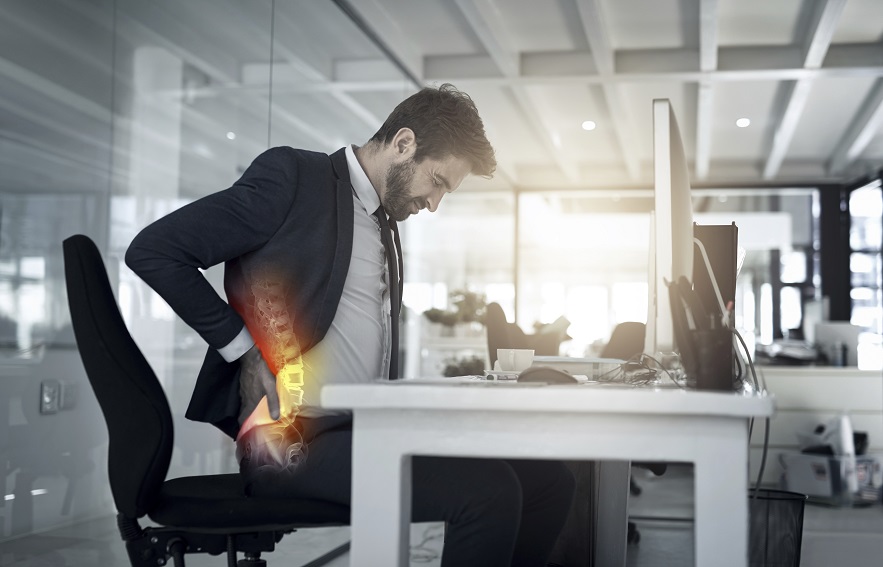 Why is this an issue?
We know poor ergonomics practice is not good for us. Repetitive movement and static and poor posture can lead to many injuries.
There is enough research in this area to justify many countries implementing some form of ergonomics regulation. These ergonomics regulations are there because we know that the risks of injury to our adult working population are considerable.
But let's consider our young people. School systems around the world are providing students with laptops and tablets to complete their work. Research shows they drive better academic outcomes as research and reference materials are more readily available. But think about it, children are potentially using these devices for up to 6 hours a day. They are then going home and using them to complete their homework. Inevitably they are gaming for a while and when we think they are tucked up in bed, they are probably organising their social lives through their smartphones.
We think young people are using technology for more hours a day than our workers and, yet we protect our workers, there is no such protection in place for our children.
The research base
The widespread use of MTSDs (mobile touchscreen devices) in children is well-documented, with UK's OfCom (2016) reporting that 79% of 12-15-year-olds own a mobile phone. This finding is supported by the Good-Childhood Report (The Children's Society & Rees, 2017) stating that children aged 12/13 felt that a phone or social media account was integral to social inclusion.
However, there is a lack of research into childhood musculoskeletal conditions, and there are difficulties in identifying the risk factors for musculoskeletal conditions in children (Kamper et al 2016). We've reasonably assumed that similar risk factors to adults would be appropriate, such as repetitive motion patterns, non-neutral body postures, and forceful manual exertions, among others.
Despite this, it is known that musculoskeletal disorders are multifactorial, with several risk factors (physical, psycho-social and individual) contributing to their development, which can be work, or non-work, related (Ariens et al, 2000).
Considering the rise in the use of MTSDs and the risk factors identified for adults in developing musculoskeletal disorders, the key considerations we're investigating are "repetitive motion patterns and non-neutral body postures (dynamic or static)", as both factors are present when children are using MTSDs (Toh et al., 2017).

Within the age group of interest Fares et al (2017) concluded that the sustained neck flexion that children and adolescents adopt when using mobile phones increases the stresses and strains on the neck which may lead to early wear, tear and degeneration.
Lower back pain has been positively linked to poor sitting postures that adolescents adopt whilst watching TV or playing games (Minghelli et al, 2014). In China, Feng et al (2017), measured 400 children and adolescent's spinal and thoracic postures, as well as collecting data on incidences of lower back pain; concluding that there is a strong correlation between excessive thoracic kyphosis angle and limited total lumbar range of movement and lower back pain in adolescents. Considering the repetitive tasks that may be involved with MTSDs, it can be hypothesised that there may be implications i.e. repetitive thumb movements, wrist extension, and radial deviation, which have previously been linked to osteoarthritis of the thumb joint (carpo-metacarpal joint) (Fontana et al., 2007).
There are a number of other issues worth examining too, such as the death of evidence in how outcomes are measured and how a lack of adequate breaks and low task variation contribute to the problem. Our research will be looking into these issues and we hope, at the end of the first 3 ½ year period, we will be able to answer some of these questions.
How can you help?
We want your help with gathering data on a variety of factors to enhance our long-term research.
We want to know about the experiences of your workforce. Have you experienced increased absence or presenteeism in your young workforce? Have you incurred any cost increases due to modifications or accommodations to help this demographic? We're keen to know how the changing workplace will have an impact too. As we move to collaborative and agile environments we want to know if you've seen any change in how your young staff have presented with these issues. If we can understand these things we can start to sketch out what the future may look like and how organisations can seek to combat workplace ergonomics issues.
If any of you would like to get involved please email [email protected] with the title of this article.