Jennifer Law and Sarah Lytton tell us about Lockton's employee wellness programme and how the organisation attempted to encourage and persuade its staff to take part and become ambassadors of the programme.
The continuous pursuit of work-life balance has resulted in an overlap between our professional and personal health. Studies continue to reveal that healthy employees make happier, more productive employees and therefore corporate wellness programmes are rapidly becoming the norm in most proactive companies. However, when it comes to the overall benefits of wellness programme engagement, it still requires a change in one's lifestyle plus a little extra effort to reach viable outcomes. Whatever their reasons, some employees still need a little encouragement… or persuasion to participate.
This year happens to mark the 200th Anniversary of Persuasion, the last of Jane Austen's completed novels which were published in 1818, several months after her death. The novel was so named by her family due to the various characters who attempt to influence, encourage and persuade others, including themselves.
This classic story of complex characters and personal opinions immersed within a range of social situations reminds us that sometimes we find ourselves the beneficiary of a compelling incentive to move in a certain direction – ideally a positive one.
Every company has a different culture and various approaches to promote corporate initiatives. They must find a process that appeals to the needs and values of their people, then continue to share the inspirational message to make it last, like a classic novel – or a sustainable story. This is ours.

Walking the Talk
"…pleasure in the walk must arise from the exercise and the day, from the view of the last smiles of the year upon the tawny leaves and withered hedges…" –  Jane Austen, Persuasion
Lockton is the world's largest privately held insurance broker and the world leader in our industry with 4,000 U.S. employees and 41 locations across the country. We are passionate about serving our clients, developing our Associates, and giving back to our communities. However, in 2011, Lockton U.S.  leadership realised that their own Associates were not heading in a healthy direction, so they decided to implement Lockton Health Risk Solutions(R) in partnership with an industry leading wellness provider, the Vitality Group.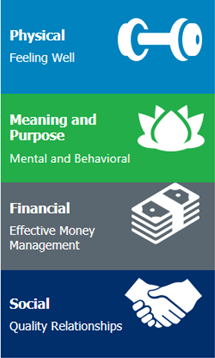 The goal of this wellness programme was to use a proven science-based strategy to improve Associates' health and decrease the company's rapidly in
creasing medical risk. In addition, this was an opportunity to set a good example for our clients and the industry overall by practising what we preached in terms of managing risk.
One of the foundational elements of wellness programmes is to focus on all facets of well-being. Following our own consulting advice, our company began to think holistically about employee health from all facets of well-being. Aside from just physical health, additional components including meaning and purpose, financial and social health were integrated into the programme – recognising the significant relationship between each of these dimensions.
A Social Network
"My idea of good company . . . is the company of clever, well-informed people, who have a great deal of conversation." – Jane Austen, Persuasion
Multiple studies have shown that people are more likely to engage in physical activity when they are influenced by active peers and even their spouses. From the moment a new hire candidate finishes up their first interview at Lockton they have already been informed by their future manager about the wellness programme. Then upon hire and orientation, they are bestowed with pamphlets, emails, and links about the programme. During the first few weeks on the job, other Associates typically start sharing progress, step counts and personal success stories. This is a typical topic of conversation that comes up at least once a week.
The core of Lockton's wellness strategy involved tapping into the science of digital social network platforms and their influence on people's health. The wellness programme was integrated into Associates' work and personal lives – which included the establishment of local office peer programme ambassadors, authentic leadership involvement, wearables, virtual team challenges, team outings, financial/money management tips, and the inclusion of spouses into the programme. Daily mobile app feeds also provide helpful info, tips and customised goals as constant motivators to stay on track. Whether it is peer pressure, inspiration, or persuasion, 98% of Associates reported feeling encouraged by Lockton participants to engage in the wellness programme.

Fruits of Labor
"…when pain is over, the remembrance of it often becomes a pleasure." – Jane Austen, Persuasion
Lockton's commitment to integrating its wellness programme into its culture has led to positive results and national recognition. From healthcare premium discounts to accumulating points towards rewards for exercise and nutrition, overall incentives are proving to be meaningful and achievable as demonstrated by the resulting data.
To date, employee engagement levels, work satisfaction, job performance and turnover rates have all improved since the programme's launch.  We have found that higher engaged individuals generally have higher corporate performance attributes and a 6.7% net improvement in risk. In addition, we are seeing reductions in claims costs as over 85% of our Associates consistently participate in the wellness programme core components year after year.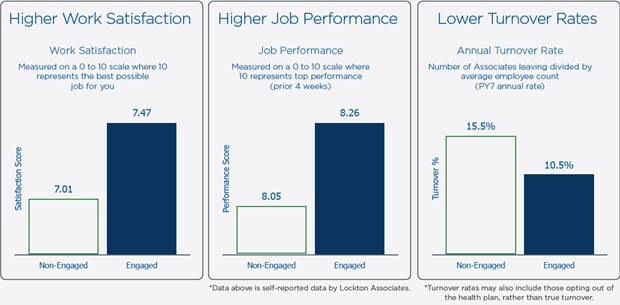 Lockton has been recognised by Business Insurance as the Best Place to Work for 9 years running and received honourable mention for the C. Everett Koop National Health Award in 2014. Numerous offices, including Charlotte and Chicago, have been named Best Places to Work in their respective states.
Sustaining Success
"Their time and strength, and spirits, were … exactly ready for this walk, and they entered it with pleasure." – Jane Austen, Persuasion
With the programme in its 7th year, Lockton regularly evaluates the progress of its Associates. We will continue to evolve and determine the need for new features or improvements. "The company has created an environment where taking personal responsibility for health and engaging in healthy behaviours has become the norm", says Theresa Schnelle, Senior Vice President of Human Resources Operations and Total Rewards Manager at Lockton.
Going forward, success will continue to benefit from Associates (and their spouses) spreading contagious enthusiasm while sharing success stories to persuade others to engage. If healthy employees = happy employees, and happy employees = productive employees = happy customers/clients, then we hope to see returns on the business side in the near future.  But that is another story.