Andy Hawkes opens up the conversation around health in the construction industry
OVER 150 leaders responsible for health and safety in the UK construction industry gathered together earlier this year to start a campaign to improve the health-related issues impacting this sector.
The construction industry had 35 fatal accidents in 2014/15, but UK construction workers are 100 times more likely to die from work-related ill health than accidents.
In the same period it is estimated that around 4,000 construction workers died from cancer caused by their exposure to hazardous substances while at work. The majority of these cases are lung diseases caused by exposure to asbestos (2,600 deaths) and silica (600 deaths).
And, around 3,000 workers in the construction sector were suffering with breathing and lung problems they believed were caused or made worse by their work, a rate significantly higher than the average across all industries. 20% of workers identified 'dusts from stone, cement, bricks or concrete' as a contributing factor.
The Health in Construction Leadership Group initiative brings together the biggest UK construction companies with an aim to develop an integrated approach to managing health in the sector and ways of reducing the risk of developing a respiratory disease.
Andy Mitchell, CEO of Tideway said: "Britain has a proud record on safety – it's one of the best in the world. Our challenge is how we bring health on a par with safety. We now need to make transformational changes to eradicate the ill health effects caused by the work we do, and treat health like safety.
"It's through industry events like that of the Health in Construction Leadership Group, that we can share good practice and reach a collective agreement on the best ways to help ensure our workers are working in not just a safe environment, but a healthy one too."
Whilst the initiative has been established by the biggest UK companies the ideas have value to all sizes and types of construction firms.
The approach includes:
Leadership and commitment
Demonstrate that Worker Health Protection is valued
Manage workplace health risks as an integral element of delivering the business, so as part of the business strategy not just an add-on
Put in place a programme and procedures that address all potential ill health and disease risks
Designate named management responsibility and accountability for Worker Health Protection at company, project and site level
Develop a culture of prevention through good practice, advocacy, positive intervention, supervision and contractor management
Risk assessment
Assess the actual risks to health from workplace activities and substances (don't just list the hazards)
Take a systematic, task-based approach to the identification and assessment of health risks
Anticipate all potential chemical, biological and physical hazards arising from products used and processes that are carried out
Consider routine, non-routine, maintenance and emergency tasks
Measure exposure risks quantitatively (i.e. via workplace monitoring), where required
Competency, training and behaviours
Ensure that every worker is on board, is competent in, and takes ownership of, their own health risk management at work
Inform, instruct and train the workforce about the health risks they face, the precautions they need to take, and what to do if something goes wrong
Instil and enforce systems and rules to make sure control measures are used
Regularly monitor and review the competency and behaviours of the whole workforce
Require (and support) subcontractors to work to the same high standard and within the same good practice framework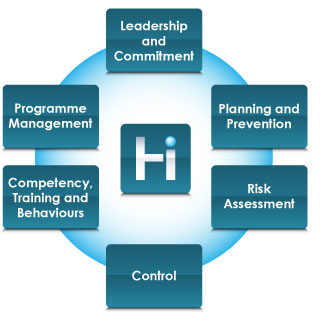 Planning and prevention
Eliminate and minimise risks to health early on: design and plan them out wherever possible
Remove high risk processes/substances/activities completely from the start
Substitute with less hazardous processes/substances/activities where elimination isn't feasible
Plan hazardous work activities so they minimise impact on other working groups
Involve specialist expertise to advise during the planning/design process
Control
Adopt the most effective and appropriate exposure controls to prevent ill health and disease
Implement a hierarchy of control and a preference for engineering control
Use straightforward and effective measures utilising the principles of good practice
Consider personal protective equipment (PPE) only as a last resort
Ensure controls are proportionate to the health risk
Programme management
Manage Worker Health Protection all the time, over the whole site, before and throughout every project, and from the top to the bottom of the company
Maintain and evaluate the effectiveness of controls on an on-going basis
Establish an exposure monitoring programme
Ensure early reporting and investigation of any potential workplace ill health or disease, through health surveillance
Set and then monitor measurable targets which relate to the occupational ill health prevention programme
To find out more about the Health in Construction Leadership Group visit www.healthinconstruction.co.uk
We work with companies across the globe to help them adhere to their health and safety requirements, including support on implementing health requirements for organisations. Find out more on our safety consultancy page or contact us on [email protected]