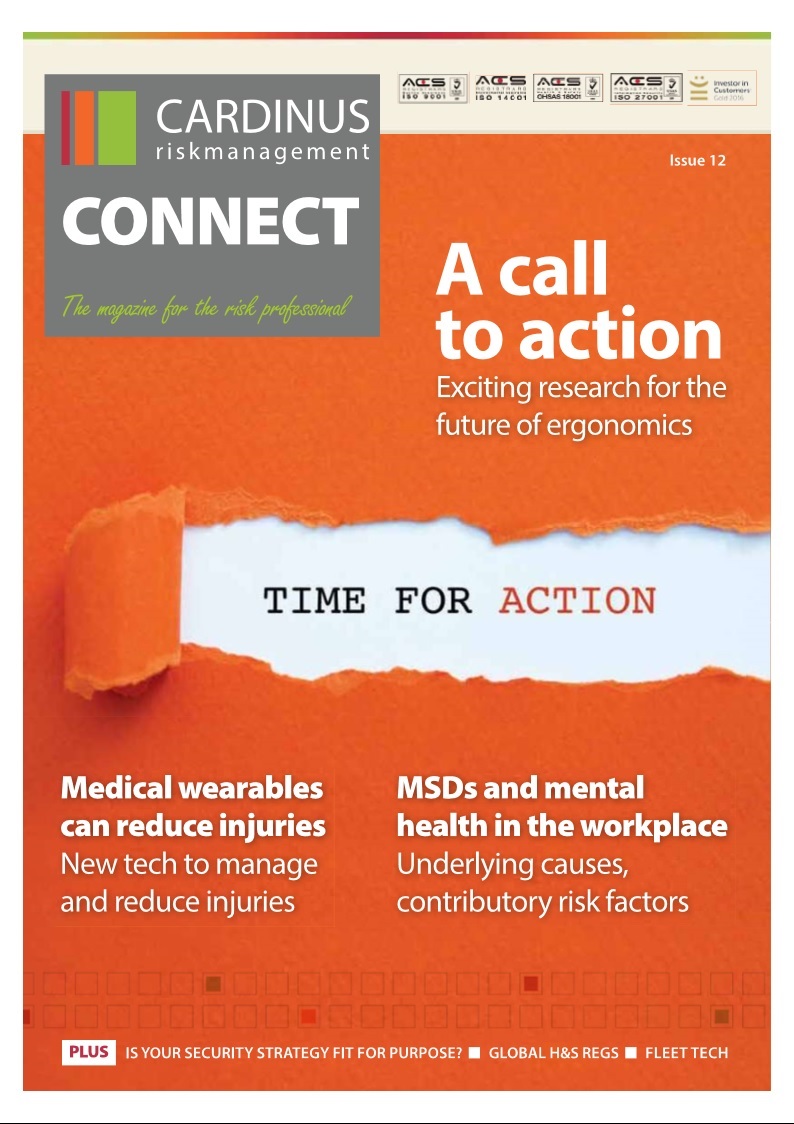 The new issue of Cardinus Connect has arrived. Download your free copy today. 
In the new issue of Cardinus Connect we call out to all health and safety managers, ergonomists and interested parties to help us tackle one of the biggest issues facing our workforce: the increase in MSDs in young people and how that will impact the workforce as they come into it.
You can read more about the launch of this project inside. Put together by Anna Clark, the lead researcher in the project and student at the University of Salford, she discusses how the project started, the current research base and what the project aims to achieve. We also ask for your help by contributing your anonymised data to help improve the research.
We also have a fantastic article from Andrew Ronchi of dorsaVi on how medical wearables can help health and safety teams achieve reductions in MSDs through tracking activities, developing optimal movement patterns and guidelines and engaging employees in positive behavioural change. Plus there's plenty more inside, from the link between mental health and MSDs, new challenges in organisational security, adapting and developing programmes for new fleet technologies through to global health and safety regulations for ergonomics.
Download the latest issue here.
A full list of articles in Cardinus Connect Issue 12:
Increase in Gen Z MSDs Will Impact Your Future Workplace: A Call to Action, Anna Clark, University of Salford
Medical Wearables can Reduce Workplace Injuries, Andrew Ronchi, dorsaVi
The Future of Health and Safety, Peter Kinselley, Cardinus Risk Management
Rising to the Challenge, Jon Hayter, Security Consultant
Tactical Solutions for Office Ergonomics, Ryan Pavey, Office Athletes Group
Technology – Preventing or causing collisions?, John Davidge, Cardinus Risk Management
Early Intervention – Strategies for Aiding Business Productivity and the Bottom Line, Matt Weber, Fit For Work
Is it Health and Safety? Yes!, Dr. Ann Hawkins, 24hr Virtual Clinic
Global Health and Safety Regulations and Ergonomics, Jon Abbott, Cardinus Risk Management
Positive Persuasion, Jennifer Law and Sarah Lytton, Lockton
Musculoskeletal and Mental Health Disorders in the Workplace, Pamela Gellatly, Healthcare RM
BAX-U Case Study at Seattle City Light, Dr. Romina Ghassemi and Keith Osborne, BAX-U and Seattle City Light