It's here, the latest summer edition of Cardinus Connect, our well-loved risk management industry magazine.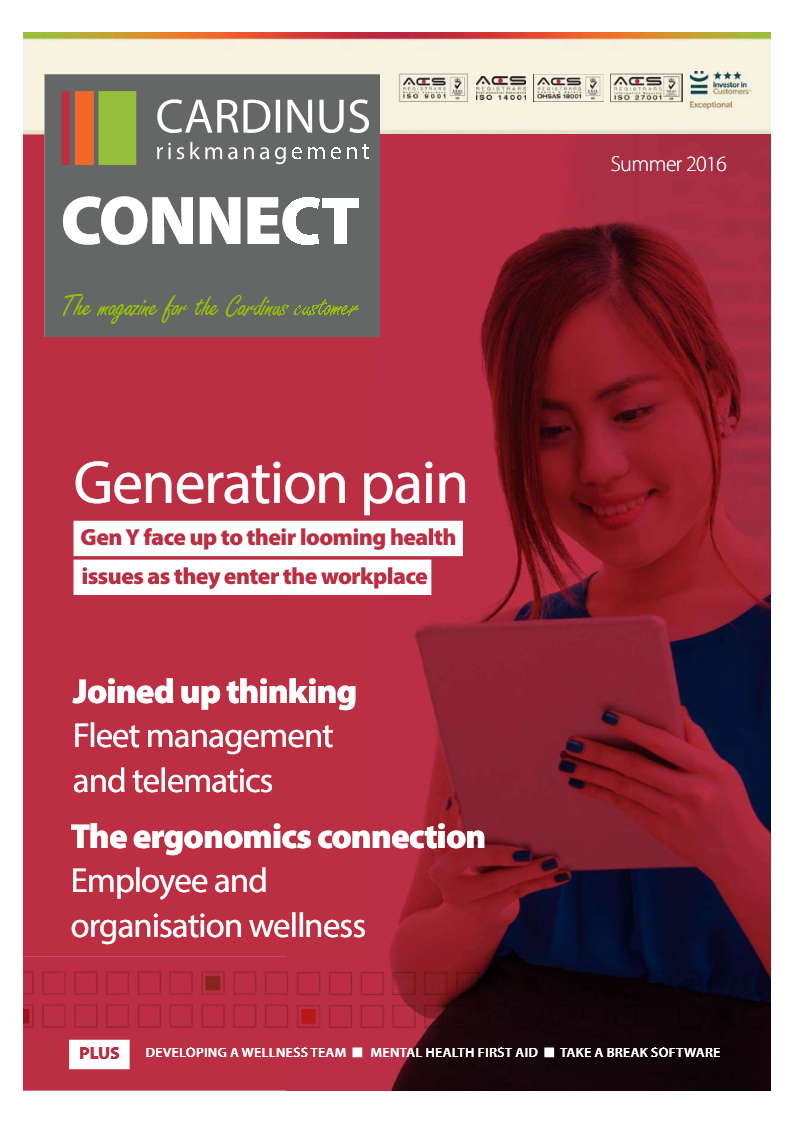 Say hello to generation pain. In his powerful lead article on the health issues facing generation Y, Cardinus US President Bill Pace discusses the terrible impact of the near-dependent mobile tech use on young people's posture. Drawing on current research this article tells us what the impact will likely be, not only on that generation, but also on businesses as they enter the workforce. This threat must be met with smarter solutions, and that needs to be planned out right now,
But that's not all, with contributors from across the industry, giving their thoughts on subjects as varied as rest-break software and fire safety issues, we've got a whole spectrum of consumable content for you to get your teeth in to.
In The Ergonomics Connect, Wayne Maynard discusses how the concept of wellness must be seen through the prism of ergonomics to bring wellness to both the individual and the organisation. The benefits of this will be huge, says Wayne.
Guy Osmond and Jim Taylour talk about looking beyond the current DSE regulations, an important piece on how the current regulations have slipped behind the needs of children and students and how that will impact the workplace in years to come. We also have Ann Hall, from Efficiency Software, sharing her thoughts on how to create a more productive and healthier workforce by looking at technology that helps to prevent fatigue. Plus there's loads more from a huge number of respected industry sources.
Download your copy of Connect magazine here.
A full list of articles from our Summer 2016 edition:
A Generation in Pain
Joined Up Thinking: Fleet Management and Telematics
Healthy Working Launch
Blaze the Trail to Fire Safety
Look Beyond the Regs
Driving Your Culture
What About Health?
Preventing Fatigue at Work
Post-Employment Screening for MSDs
Obligations When it Comes to Managing Contractors
The Ergonomics Connection
High Touch Engagement and Ergonomics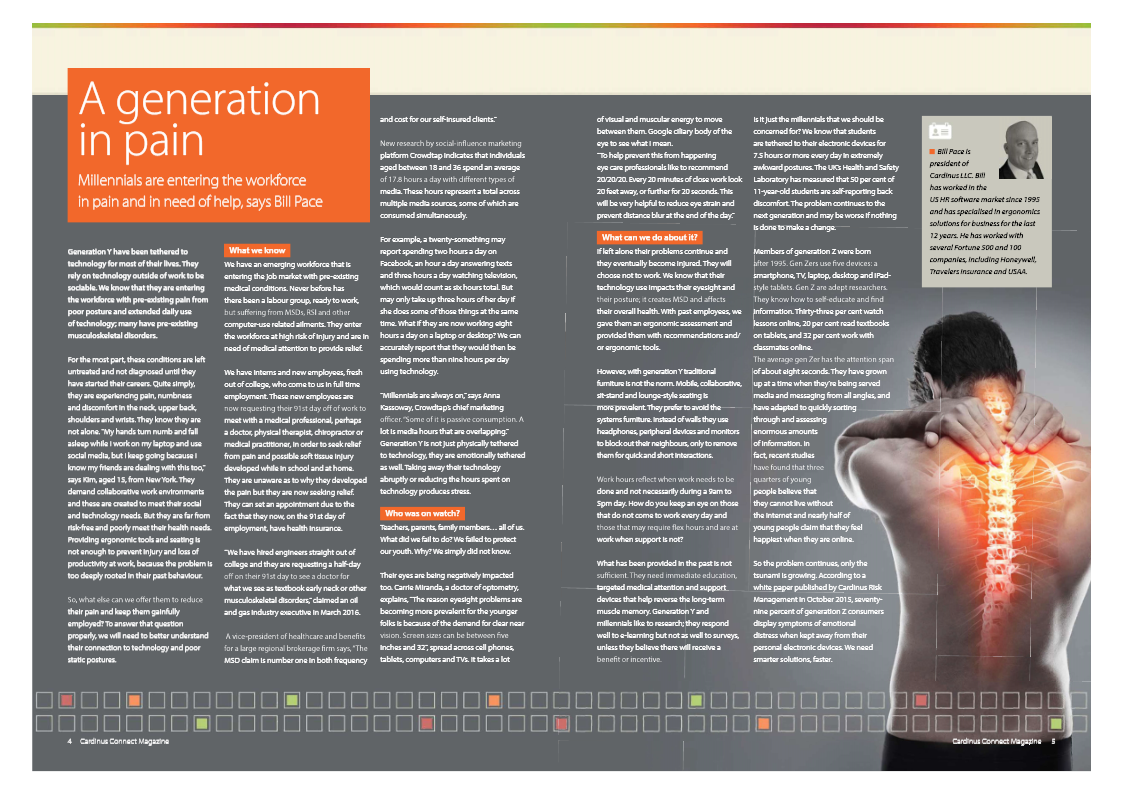 Contributors include:
Jon Abbott (Sales and Marketing Director at Cardinus)
Bill Pace (Cardinus US President)
Jeremy Guscott (ex-rugby legend and independent telematics expert)
Jamie Truscott (Managing Director of Cardinus Property)
Jim Taylour (Institute of Ergonomics and Human Factors)
Guy Osmond (Osmond Ergonomics)
John Davidge (Head of Fleet Technical at Cardinus)
Mark Preston (Associate Director of Health and Safety at Cardinus)
Ann Hall (Efficiency Software)
Lee Huber (ESIS)
Wayne Maynard (Liberty Mutual Insurance)
Donna Defalco (The Health Enhancement Company)
You can download your free copy of Cardinus Connect here, or request a free print version by emailing [email protected]