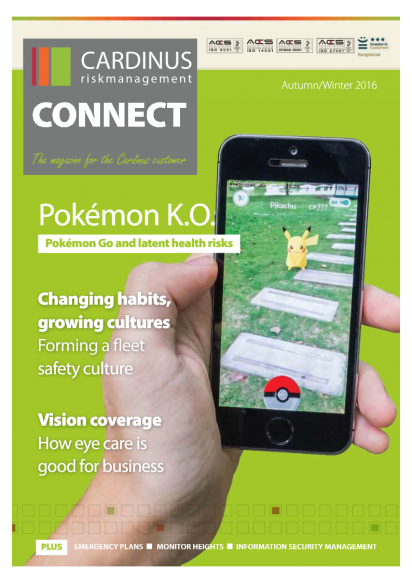 We're back with the latest edition of our popular risk magazine, Cardinus Connect. And in this issue, we come back to a familiar topic, and one we're passionate about: rising problems with health in young people caused by our reliance on modern tech devices.
In Pokémon K.O., written by Jon Abbott, he delves into the universe of Pokémon GO and exposes the underlying health risks that too much game playing can cause. In particular, Jon looks at the recurring issue of back and neck pain caused by poor posture, pain in the hands and fingers caused by the button bashing in the heat of battle, as well as some of the more known health risks that have been reported across the world in newspapers and blogs.
We've got lots more too, including two separate articles on home working, or telecommuting. One from the the perspective of instilling good ergonomic habits in these workers, the other providing a near-complete guide on everything a home worker needs to set up their workstations correctly, including carpet selection, types of lighting and furniture.
Jeremy Truscott provides his thoughts on on emergency preparedness plans for properties, giving you a 5 point article on all the things needed to put it together, distribute it and put it into action. If you're looking for a place to start thinking about your plan, then this is the start you need.
Download your copy of Cardinus Connect, Autumn/Winter 2016 for free.
A full list of articles from our Autumn/Winter 2016 edition:
Pokémon K.O.
Changing Habits, Growing Cultures
Forming Good Ergonomic Habits for the Mobile Worker
ISO 45001
Managing Safety for Telecommuters
Treat Health Like it's Safety
Oh My Aching Head
Information Security Management
Vision Coverage: An Effective Tool for Wellness
Growing Green Places
Too High? Too Low? Just Right! Vision Needs, Monitor Height and Neck Pain
The Implications of not Frequently Checking Driving Licences
Is Your Child at Risk?
Bitten by Bites
Emergency! Five Things a Commercial Property Manager NEEDS to Consider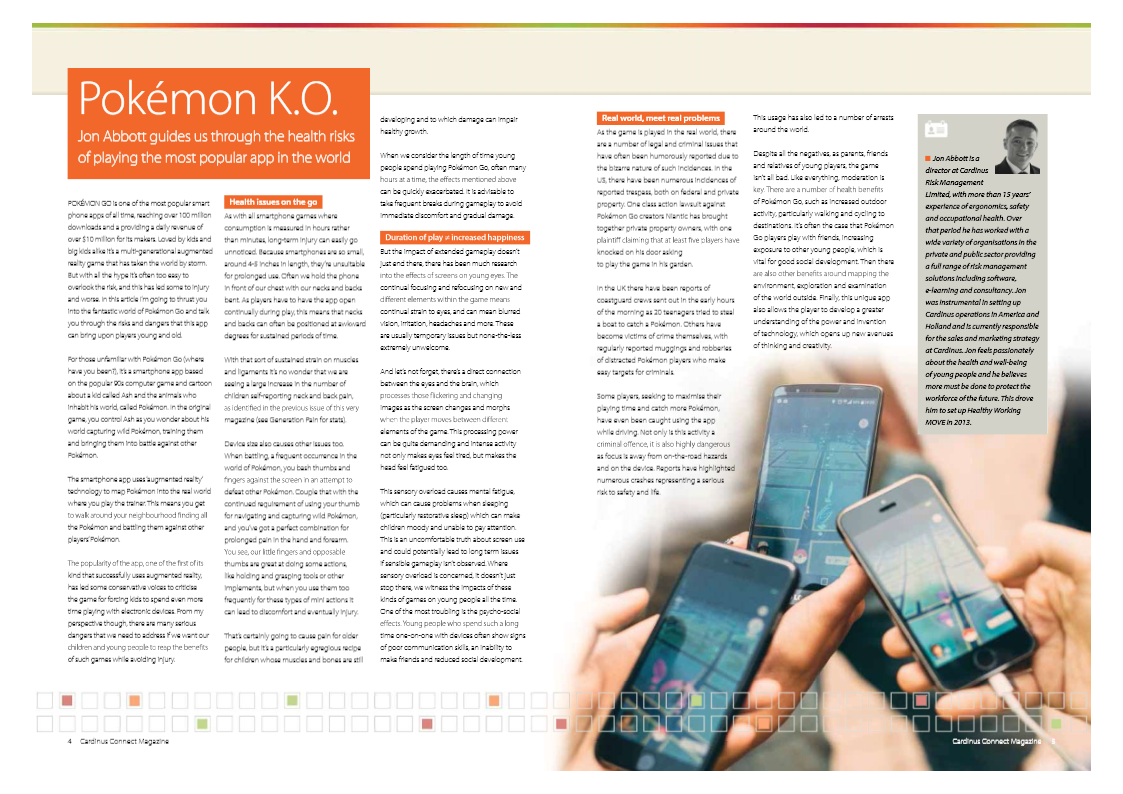 Contributors include:
Jon Abbott
John Davidge
Romina Ghassemi
Jamie Truscott
Wayne Maynard
Sarah Tapley
Ed Milnes
Andy Taylor
Jennifer Law
Donna DeFalco
Suzanne Starkey
Robin Cyr
Andy Hawkes
Mark Preston
Malcolm Maycock
You can download your free copy of Cardinus Connect here, or request a free print version by emailing [email protected].