Easily Communicate Return to Work and Home Working Safety.
As lockdown is relaxing there are complex H&S challenges that need to be met. You'll no doubt have a process for getting staff back in your buildings safely with their health, and stopping infections, at the forefront of your mind.
Healthy Transitional Working e-learning helps to get the right safety message to staff easily, and allows you to evidence that learning has taken place! As employees transition from the workplace to working from home and back again, e-learning will be vital to reinforce learning and manage safety comms.


Set it Up Fast and Take Control of Your Return to Work Safety Message
You need a flexible, quick-to-set-up solution to support those returning to work while helping staff who will continue to work from home. This is a complex communication challenge but is made easier by our program Healthy Transitional Working. It combines a highly customizable return to work course with a real-world home working course that provides content on working from dining room tables, couches and other home furniture to meet the challenges your teams are really facing.
Don't take our word for it. Try it for yourself.
Inform Staff on Return to Work Policy and Procedure
You've prepared the workplace for the reintroduction of your staff, but how do you communicate it effectively? As part of informing your staff about your return to work program, e-learning allows you to customize your message, manage who sees it, and ensure training is completed.
Unclear communication loses trust and fails to get people to do the actions that you want them to. This may lead to staff being unsure about what they need to do, and could lead to the spread of infection in your workplace.
We use 4 stages in our Return to Work strategy. Prepare, Inform, Prevent Recover. We've published the strategy here so you can make the most from it.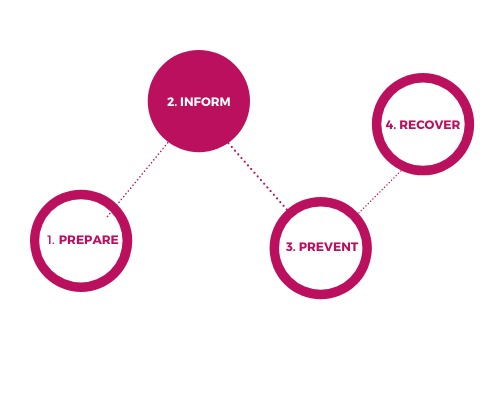 Low Cost, Standalone Program with Customizable Options for the Way Your Organization Will Return to Work
Each organization will manage their return to work program in different ways. If you have multiple offices or are based in a city center or campus, the way staff will return will be different and their needs will be different.
Healthy Transitional Working comes with plenty of choice and we will work with you so it meets your needs. E-learning provides a measurable and engaging way to communicate and educate staff, helping colleagues to feel less anxious about getting back to work, and making sure that they understand your policies.
✅ No need for LMS integration, program can be standalone
✅ Low-cost solution at $2 per user
✅ Set up within 48 hours
✅ Highly customizable!
Customize to Meet the Way Your Organization is Helping Staff Return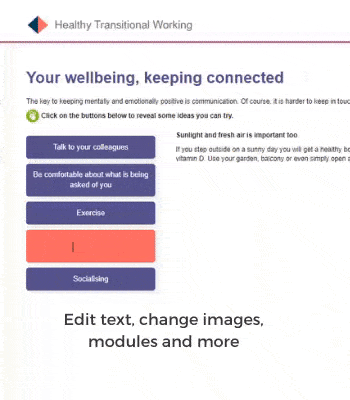 As you begin the process of returning to the workplace decisions relating to physical distancing, catering, cleaning, and other issues will be reviewed and changed.
Healthy Transitional Working provides a framework of content. Your return-to-work policies may not be covered in this content, so it's important to us that you have the flexibility to change it. 
👉 Editing text and images
👉 Adding or removing pages, modules, self-assessment, profiles or employee action plans
👉 Content changes, such as adding relevant information
Customization may come at an additional cost.
Send the Right Message to Staff, Whether at Home or Returning to Work
You'll have some staff still working from home, often from dining room tables, kitchen stools, and sofas. While others will be starting the process of returning to work. This program uses profiling to make sure that staff receive the right training for their situation.
👉 Communicate return to work policy
👉 Reduce anxiety around returning to work
👉 Support health and safety for those continuing to work from home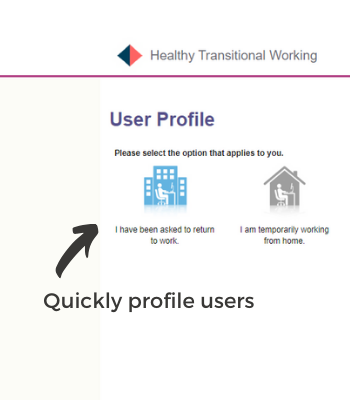 Evidence that Learning has Taken Place and Assess Risk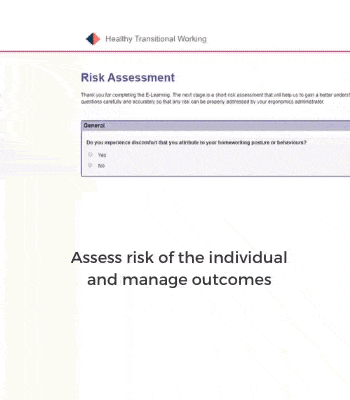 When communicating return-to-work policies it's important that you can evidence that staff have read and understood your plans. Not only to make sure that staff act in the way you want them to, but also for future compliance reasons.
Healthy Transitional Working includes tests, risk assessments and action plans to prove that learning has taken place and reinforce outcomes.
👉 Communicate more effectively with text, images, and tests
👉 Tell the story of your return-to-work policy in a simple way
👉 Evidence learning with our learning management system
Get Know-How, Support and Manage High Risk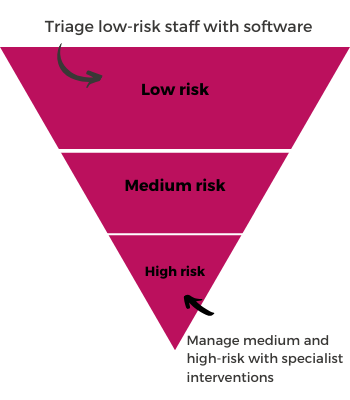 Expert partners, including physios, ergonomists and mental health experts, plus our brilliant safety consultancy, can be added on to make a real impact to all your staff.
👉 Musculoskeletal injuries
👉 Pain and discomfort
👉 Support on mental health
👉 Workers' compensation costs
👉 Health and Safety advice and guidance
Bundle It With More Brilliant E-Learning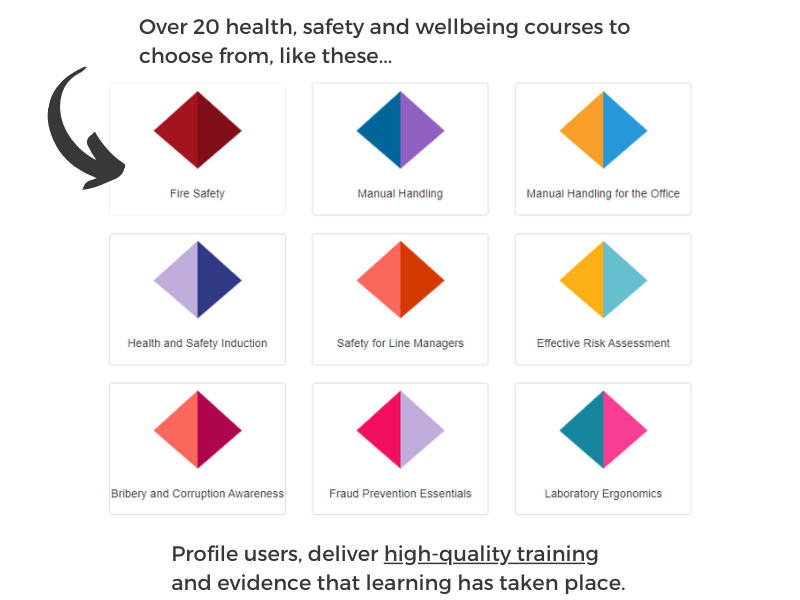 Bring together all your safety e-learning learning in one place with our LMS, or use it as a standalone platform. Let us know when you book your demo. ⬇️
Try Healthy Transitional Working Today
Complete the form below to get access to Healthy Transitional Working and better communicate your RTW process today.