Lab Ergonomics Online Training
Our laboratory e-learning program provides your employees with the skills needed to manage and control ergonomic risks in the laboratory environment.
Improve Ergonomic Safety in the Laboratory
If used incorrectly, laboratory equipment, tools and instruments can cause stress and strain on muscles and joints, leading to undesirable injuries. Our interactive e-learning course is designed to help reduce the risks in this specialized environment and teach lab technicians the harmful movements & activities to avoid.
Laboratory ergonomics will:

Ensures lab workers know how to use equipment safely
Reduces risk of long-term injury
Minimizes workers' compensation costs
Increases participation rates and boosts employee engagement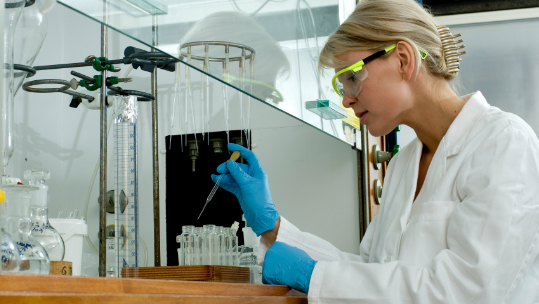 Our Engaging Laboratory Ergonomics E-Learning Program Provides Your Employees With:
Identifies high risk areas across your laboratories
Customizable ergonomic assessment content that can be adapted to meet your requirements
Multiple language options
Laboratory ergonomics risk assessment and training that's tailored to each employee and specific laboratory risks
Engaging interactive sequences that help improve the educational process
Healthy Working uses a four-step approach to reduce workplace risk and support compliance with health and safety regulations
Healthy Working for laboratory ergonomics comes with an easy-to-use management system that allows you to:
Search training and risk assessment records easily
Easily prioritize employees who need intervention
Assign tasks and ensure actions are being followed up
Automate your email communications
Generate comprehensive ergonomic assessment reports
Generate charts and sophisticated statistical reports to support compliance with health and safety regulations
Four steps to risk reduction success
Step 1: Laboratory ergonomics e-learning
30-40 minutes of e-learning that encourages your employees to make adjustments to their workstations and equipment as they take part. All laboratory ergonomics assessment training is customizable to meet the exact needs of your company.
Step 2: Laboratory ergonomics self-assessment
Employees conduct their own laboratory ergonomics risk assessment and are given immediate feedback and advice for issue that they can resolve themselves. This provides them immediate help and reduces the amount of risk your ergonomics assessors have to carry out..
Step 3: Automated communication
Automated communication ensures your laboratory ergonomic risk assessment program becomes proactive and encourages employees to engage.
Step 4: Laboratory ergonomics management
Your ergonomics team can use our powerful management system to assess and resolve any residual risk. This ensures intervention is targeted, appropriate and result-driven.
A case study in laboratory ergonomics
In one laboratory environment changes were made to the work flow to reduce the risk of musculoskeletal disorders, Cardinus consultants found evidence that the training paid for itself in less than three months through an increase in productive hours and reduced work in progress, as well as resulting in a reduced risk of injury and absence from injury and illness.
Start your free trial or Learn more about Laboratory Ergonomics E-Learning
Complete the form below for more information and to start your free trial.