Homeworking is here to stay, and with it, risks to employee wellbeing when working from home – not least of all the discomfort caused by unsuitable homeworking equipment.
In fact, 37% of homeworkers are experiencing severe pain and discomfort compared to 28% of office workers, according to data from our Healthy Working Risk Assessment.
Despite the strong argument for investing in employees' homeworking equipment, many organisations and employees find the costs of equipment a barrier to comfortable homeworking. But this doesn't have to be the case.
Keep reading for our budget-friendly and ergonomic-friendly equipment recommendations.
What is office ergonomics?
Office ergonomics is all about making sure a working environment is fit for the user. It covers everything from environmental factors such as temperature and noise, to the physical aspects of a workspace like chairs, footrests, screen setup, and desks.
Specialist ergonomic office equipment can, and will, protect you and your team from work-related injuries like neck or back pain and help you create a safer, healthier, and more productive workplace.
The impact of ergonomic equipment on homeworkers
Studies show that ergonomic equipment can significantly reduce absenteeism in employees, reduce their pain, and compensation claims due to injuries sustained from poor work setups. It also improves employee morale, productivity, and sustained energy.
Organisations have the same health and safety responsibilities for homeworkers as they do for office-based workers. As a result, it is important to consider your homeworkers' work setup and how you can help as a business.
Ergonomic office equipment for all budgets
Chair
9 hours a day. That's how long the average desk worker spends seated, often on dining chairs or sofas without any lumbar support. This is likely to provoke lower back pain, which can be prevented with an ergonomic desk chair.
Premium option
Top-of-the-range ergonomic chairs like the Orange Box Flo Chair adapt to your individual positioning, offering the ultimate comfort and spinal support for around £900. The HÅG Futu Mesh 1100-S from £613.00 offers a similar design and functionality at a lower price point.
Budget option
Adding a lumbar support pillow to your existing chair is an effective, budget-friendly way to protect your back for a mere £30.
Free option
The most important aspect of any ergonomic chair is lumbar support. Simply placing a cushion or even a rolled-up towel behind your lower back can protect the curvature of your spine.
And make sure you move!
Don't just sit down all day, remember to get up and move around regularly.
Healthy Working includes a free  app that will give you some great stretching exercises to ease any discomfort you may have.
Laptop stand
Did you know looking at a screen positioned too low can position your head in a way that puts up to 400% more force on your spine than if it was positioned correctly?
Raising your screen to sit directly in front of your eyes will prevent excess strain on your neck and help you hold your head up high.
Premium option
Hybrid employees typically work in multiple environments with different screen positioning requirements. Premium adjustable laptop stands such as the Ergo-Q220 Laptop Station (£107) are light enough to fit in your backpack, allowing you to get your screen height right no matter where you work.
Budget option
If you consistently work in the same environment, you won't need to adjust your screen on a regular basis. The Desire2 My Screen Anywhere Laptop Stand is only £29.99 and does a great job at positioning your laptop correctly.
Free option
Put that pile of books lurking in the corner to good use! Stack them up to the right height and create your own laptop riser without spending a penny.
Sit/Stand desk
A widely popular option for office and home workers alike, sit/stand desks can help boost your productivity and curb the ill-effects of a sedentary lifestyle.
If you do use a sit/stand desk, it's best to alternate between sitting and standing every half an hour, or whenever your muscles and joints feel tired.
Premium option
High-end sit/stand desks allow you to programme sit-stand reminders and seamlessly switch between sitting and standing throughout the day. Options include the HomeFit Desk in a Cupboard at £1299 but it is literally a desk that fits into a cupboard! Another option is the WorkActive Sit-Stand Desk from £720.00
Budget option
A standing desk converter is a cheaper way of getting the benefits of a standing desk in a much smaller package. The Opløft Sit-Stand Platform costs only £379.14.
Free option
Look around at the different surfaces in your home. An unused shelf, ironing board, or pretty much any flat surface at chest height has standing desk potential.
Keyboard and mouse
Mouse-clicking, touch-typing and keyboard-clattering are all part and parcel of a desk job. But if you're not supporting your wrists correctly, you could be typing your way to Repetitive Strain Injury (RSI).
Premium option
Split designs, wrist cushioning and angled key layouts are all common features of ergonomic keyboards. The Kinesis Advantage 2 Keyboard £299.95. This keyboard has been designed to address major RSI (Repetitive Strain injury) risks associate with using the keyboard to promote maximum comfort.
The Evoluent D Vertical Mouse from £109.95 is a highly regarded vertical mouse that encourages your hand and forearm into a neutral handshake position to avoid unhealthy twisting.
Budget option
The Accuratus Contoured Split Keyboard from £45.83 is a great option.
Free option
Ensure when you are working at your desk with existing keyboard that your feet are placed flatly on the ground and your neck and back should be straight. Your elbows should be open – creating an angle between 90 and 110 degrees – and leading to neutral and straight wrists. Moving up to your head, your eyes should be level with the top line of your screen. Although slouching can be temporarily comfortable, the long-term benefits of using proper typing posture far outweigh that temporary comfort.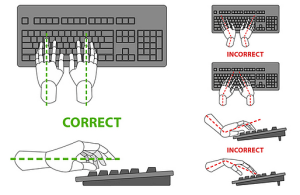 Footrest
Feet dangling off the ground when sitting at your desk?
The ideal sitting posture, your knees should be between 90-120 degrees and your feet comfortably supported by the floor. If this is not the case, consider using a footrest to avoid straining your knees and lower back.
Premium option
The Discus Footrest with Adjustable Tilt £160.95 offers comfort and support for your legs and feet, while working at home or in the office. Using your foot to operate the button, the footrest can easily be adjusted in height to promote good posture and wellbeing. Its steel frame provides stability and an adjustable tilting platform for flexibility.
Budget option
Try the Footmate Footrest at £39.95
The Footmate Footrest is lightweight and height-adjustable, with 3 different height settings ranging from 95mm-170mm, providing support and comfort for users.
Free option
There are infinite ways to make use of an old empty shoebox – turning it into a footrest is one of them!
Final word
Office ergonomics doesn't have to break the bank. With these budget-friendly solutions, you can ensure your workers are comfortable wherever they work.
All of the equipment mentioned in this article is available through our preferred supplier, Osmond Ergonomics. If you would like more information about protecting your employees' wellbeing, please contact us.