This week Prime Minister Boris Johnson made a historic address to the UK, ordering the nation into lockdown to slow and prevent the spread of Coronavirus (COVID-19).
In this article we will expand on some of the issues discussed in our Coronavirus Remote Working Q&A and employer considerations regarding the safety and legal implications of managing home working employees.
The ability to work from home
It is up to the employer to decide if employees can work from home. For most organisations, this was necessary to enable businesses to continue following the social distancing and lockdown measures implemented by the government.
However, not all employees can work from home due to the nature of their roles – this is not just true for those who work in retail, facilities management and construction, but is also the case for some office workers. A number of organisations are unable to allow employees to work from home because compliance or security laws mean that some systems cannot be accessed remotely.
For organisations that can facilitate working from home, the first step is to identify who could work from home and support them in being able to do this.
Home workstations and DSE
The response to Coronavirus has had to be rapid to contain the outbreak. For most employers this means existing work from home policies, procedures and assessments have been bypassed to allow employees to work from home as quickly as possible.
From an ergonomics point of view, this move to remote working means most home workstations are unlikely to meet Display Screen Equipment (DSE) requirements. Employers have asked that employees carry out DSE self-assessment, but as we are in lockdown the ability to fix any hazards or risks is limited.
The Health and Safety Executive (HSE) has issued guidance which states that employers do not have to complete workstation assessments if employees are working at home temporarily.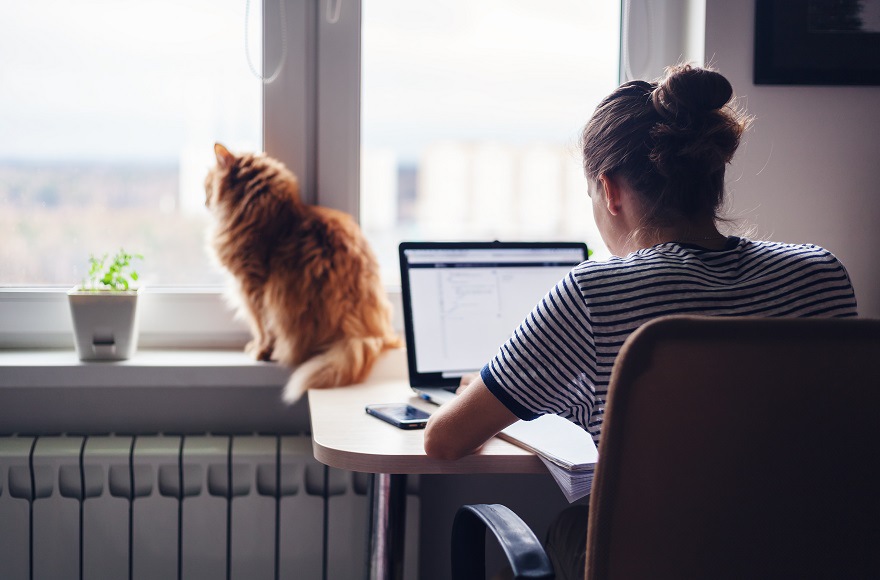 Legal implications
As expected, many organisations are concerned about the legal implications related to the safety of home workers.
There have been no temporary changes to legislation as of yet, but the advice from the HSE has been for employers to act as responsibly as they can when it comes to issues such as DSE.
Employers have the same health and safety responsibilities for home workers as they do for any other employees – but in times like these, this is going to be difficult for many organisations to oversee.
We advise that our clients view the current situation as a 'temporary event'. It is unreasonable to expect employers to be able to implement the same level of risk assessment, training and equipment provision as may have been offered previously.
As discussed in our Coronavirus Remote Working Q&A article – Paul Verrico, an eminent lawyer advised in his COVID-19 article that "The message is simple: Act responsibly and ethically, not out of fear of prosecution but out of a sense of appropriate accountability to staff and customer stakeholders".
Employers should stay up to date with the evolving situation and do all they can, within reason, based on government advice.
Special considerations
Employers should consider the special circumstances some of their employees will find themselves in as a result of Coronavirus measures. In the UK, schools have closed and for many employees, this means that they also have the added responsibility of looking after children whilst trying to work from home.
Working from home in these situations comes with particular challenges, such as working within a confined space or managing the stresses which come with maintaining a family routine in these unusual times.
In addition to this, employers should also try to identify lone workers, as they can be exposed to additional risks. With lone workers, communication is key and line managers should be advised to try and stay in contact with these employees to try to minimise the additional stresses and mental health issues that can arise from being isolated.
Employers also need to consider workers who are vulnerable as a result of disability, existing medical conditions, or pregnancy. The advice for these workers is similar to lone workers – employers need to identify who they are and ensure regular contact is maintained to sustain duty of care.
Employer guidance and corporate risk assessments
As previously mentioned, in these unusual times conventional risk assessments are likely to be impossible, but even so there are steps employers can take to support employees.
Employers should be doing what they can to assist those working at home to ensure they can work safely. This may include sharing existing homeworking guidance or training and staying in regular contact with specific employees who may be at higher risk due to their personal circumstances or health.
Employers should also consider providing their working from home employees with additional guidance, where possible. The Cardinus Health Working app is one example of guidance that can be shared with employees remotely. The app has recently been updated to include DSE advice for those who do not have a home office or traditional workstation. Download it for iOS here.