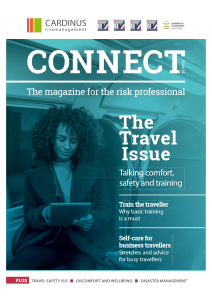 Issue 14 of Cardinus Connect is hot off the press! This time we focus on issues in travel, from ergonomics and mindfulness, through to safety standards and travel training. Download your copy here.
Issue 14 of Cardinus Connect is the final issue of the year. In it, we travel across great spaces to bring you the best in thought-provoking opinion and expertise, top tips, insightful guidance and a whole lot more. Our lead article focuses on mindfulness ergonomics in travel, the place where mindfulness and good ergonomics meet travel. Donna DeFalco, President of the Health Enhancement Company, gives us 10 powerful tips for introducing this into the way you travel, helping you to become grounded and healthy in an often chaotic and restless atmosphere.
Harry Bliss of Champion Health discusses the dangers of sleep deprivation for travelling staff and tells us of his WHEELS mnemonic that seeks to reduce fatigue and aid wellbeing. It's really important for businesses to take seriously the impact of travelling on the health of their staff (whether it's just a commute or longer business travel), and optimising sleep in the workforce can really help to improve performance, while helping people stay healthy.
Our Security Director Andy Neal discusses the importance of training travellers when going to unfamiliar locations, like new cities or countries. With a large number of instances where travellers required consular assistance, it's important that travellers feel supported. But more than that, our staff should have an underlying feeling of support and safety when we send them out to do business for the organisation, and part of that must come from basic travel training.
We've also got plenty more crammed into our 28 pages, including an article on 25 years of Cardinus with Andy Hawkes (more to come later on!), info on self-care and stretching, driver training, and the purported Travel Risk Management ISO among others.
Thank you for taking the time to read Cardinus Connect. We hope you love it as much as we do. We'd like to thank all the contributors and do please remember to check out their businesses. If you're an expert in the field and would like to contribute to the next Connect, email [email protected]. The same goes if you have any feedback!
Download the latest issue here.
A full list of articles and authors in Cardinus Connect Issue 14: