Fire is probably the most likely catastrophic risk to which we are exposed. This exposure can occur not only in the workplace but also in the home.
When a fire occurs, not only does it pose a major threat to life, but it can destroy property and cause major business loss, or in many cases, failure.
To give an indication of the scale of the problem, in 2018, UK fire and rescue services attended a total of 181,436 fires, (Fire statistics, United Kingdom, 2018). 75% were external, e.g. vehicle, refuse or grass, and the remaining 45,894 fires were in business premises or within private dwellings (including blocks of flats or multi-tenanted buildings).
What are the legal requirements relating to fire safety?
The Regulatory Reform Order (Fire Safety) 2005, commonly called the RRO or FSO, came into force on October 1st 2006 replacing over 70 previous items of fire safety legislation. The Order applies in England and Wales.
In Scotland the similar relevant legislation is in two parts: Part 3 of the Fire (Scotland) Act 2005 and the Fire Safety (Scotland) Regulations 2006.
In Northern Ireland the applicable legislation is Part 3 of the Fire and Rescue Services (Northern Ireland) Order 2006.
The mechanism at the heart of the legislation is the requirement for a Fire Risk Assessment (FRA) for each property. The onus for producing the FRA rests with the relevant 'Responsible Person'.
Who needs a fire risk assessment?
The Fire Safety order says that fire risks must be managed in non-domestic premises (including the common parts of blocks of flats) and therefore applies to fire safety, i.e. the safety of people within premises, generally a building but not always. It replaces the previous requirement for a fire certificate, which was issued by the fire authority, and these are no longer valid, although perhaps useful as a starting point for the FRA.
Non-domestic premises are defined as "all workplaces and commercial premises, all premises the public have access to [and] the common areas of multi-occupied residential buildings."
What is a responsible person?
A responsible person has a role in the legislation as:
A person who has control over a premises or part of a premises
An Owner or Managing Agent for premises or shared parts of premises
An Occupier in premises such as those used by the self-employed or voluntary organisations if they have control of all or part of the premises
An Employer at those parts of a building used by staff and visitors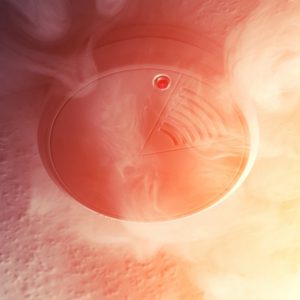 In many instances the 'Responsible Person' will be obvious and it may be that a number of people will have some responsibility. It is the 'Responsible Person' that carries the legal responsibility for the FRA and must, as far as reasonably practicable, make sure that everyone on the premises, or nearby, can safely escape in the event of a fire. Everyone includes employees, occupiers, visitors or members of the public.
If the 'Responsible Person' does not have sufficient training or knowledge he must appoint a 'Competent Person' to carry out a Fire Risk Assessment and regularly review the property exposures with regard to the FSO.
A competent person is defined as someone who has sufficient training, experience, knowledge or other qualities to enable them to carry out a measure correctly.
What is a fire risk assessment?
A Fire Risk Assessment can be broken down into five steps:
Identify the Fire Hazards
Consider the people who may be at risk if a fire occurs
Evaluate the risks of fire, assess existing fire safety measures and act if improvements can be made
Record, assess, plan and train
Complete a periodic Review
The fire risk assessment should identify an appropriate period for review, which would depend upon the level of risk assessed. In the event of any changes that might affect the assessment, it should be reviewed immediately.
Factors involved in developing an assessment include identifying:
What ignition sources are present
What fuels or combustible materials are present
What can assist the spread of fire, e.g. surface spread of flame, voids, etc
What fire separation is provided
What means of detecting a fire and the raising of an alarm or warning are available
Assessment of all routes and means of escape
Emergency and evacuation procedures, review them and where none exist produce suitable procedures
Review any or all fire systems including firefighting equipment
The regular training of staff and wardens
How visitors and, where appropriate, the public are effectively informed noting particularly how the disabled are provided for
The assessment is required to be "suitable & sufficient", i.e. if there is a high likelihood and/ or severity of a fire incident the assessment must be developed in greater depth and detail. Although there is no single standard form for a fire risk assessment there is a Publicly Available Specification, PAS 79: 2007 published by the British Standards Institution, which includes guidance and a standardised methodology for carrying out assessments.
---
---
Who can do a fire risk assessment?
It is the duty of the 'Responsible Person' to ensure the FSO is complied with. To this end, a 'Competent Person' should carry out the site Fire Risk Assessment.
In practice, the 'Competent Person' typically carries out an on-site visit at which steps 1-3 above are completed and an assessment recorded. The 'Responsible Person' will then act on the fire risk assessment report provided by the 'Competent Person' in order to do everything 'reasonably practicable' to protect people from harm, as required by the legislation. This should also include appropriate training and communication of relevant information as shown below.
Cardinus are certified for BAFE SP205 Gold Life Fire Safety Risk Assessments ensuring that your fire risk assessments are conducted to the highest standards. We work across the UK and conduct thousands of assessments each year. We can also provide health and safety assessments and property valuations at the same time.
Head to our page for more information on booking a fire risk assessment, email [email protected] or call 020 4769 0200.