Changes to the Highway Code were implemented in January 2022 to improve safety for vulnerable road users, particularly children, older adults, disabled people, cyclists and horse riders. In this article we discuss the key changes and what this means for fleet risk.
The 3 main changes to the Highway Code
Introducing a hierarchy which ensures that those road users who can do the greatest harm have the greatest responsibility to reduce the danger or threat they may pose to others.
Clarifying existing rules on pedestrian priority on pavements, including how drivers and riders should give way to pedestrians crossing or waiting to cross the road.
Establishing guidance on safe passing distances and speeds when overtaking cyclists or horse riders, and ensuring that they have priority at junctions when travelling straight ahead.
The changes also include recommendations on how to exit a vehicle safely, making poor driving decisions more punishable, and banning the use of mobile phones in any capacity when in a vehicle. You can read the changes in more detail on the Gov.uk website.
How important are these changes?
Since March 2020 we have seen a shift in road use caused by the Pandemic and lockdowns, with an increase in local travel and the encouragement of greener transport options which includes walking and cycling. COP26 has also set an agenda for greener transport options and the Government has introduced a Safe and Healthy Mobility Strategy.
The Safe Road for All Paper published in August 2021 was an expert report addressed to the UK Government calling for a Safe and Healthy Mobility Strategy and Action Plan for roads, 2021-30, to deliver sustainability and prosperity. The paper identified four key work areas to achieve the Government's Safe and Healthy Mobility Strategy and Action Plan:
Safe space for all people to walk and cycle, and good public transport
Safe road infrastructure; safe speeds; safe, clean and green vehicles
Safe standards for drivers, and for organisations managing vehicles for work
Excellence in collision investigation, and excellence in care for road victims
The danger to vulnerable road users is highlighted in the PACTs Report 'What Kills Most On The Roads? New Analysis For The New Transport Agenda' dated Dec 2020.  As can be seen from the graph below car drivers are the greatest danger to other road uses and it is vital that we take steps to make our roads safer for all users.
We recommend that businesses highlight these changes to their fleet staff and encourage them to act with consideration towards vulnerable road users and make our roads safer for all.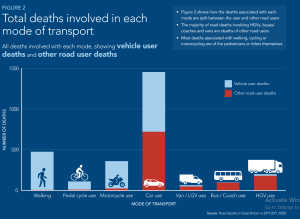 What do the changes to the Highway Code mean for fleet risk?
As drivers and pedestrians become accustomed to the new regulations there is likely to be a transitory period with slightly more room for ambiguity and hesitation when on the roads. As a result, there is the possibility of a higher risk to drivers and pedestrians
We would recommend refreshing your fleet risk assessment to account for these new rules and to revaluate the potential risks to your workforce during the coming months as road habits change.
We can help with your fleet risk assessment
Cardinus can provide tailored fleet risk assessment tools to support your business with managing your occupational road risk, including fleet risk assessment eLearning and audits. Please email [email protected] for further information and to demo of our software.