Managing workplace DSE can be complex and time consuming. In this article we explain what the risks can be, what you can do as a business and considerations which can make the management process much easier.
What are DSE regulations?
Health and Safety Work Act 1974
The Health and Safety Work Act 1974 states that employers are responsible for the general duty of care of their employees. This means making sure, as far as reasonably practicable, the health, safety and welfare of employees is considered and managed.
The legislation states that directors and managers have a specific duty toward their staff. In the event of the failure to provide this duty of care, enforcement action can be taken. This may include the issue of improvement, probation notices or prosecution.
Action in the magistrates' court can lead to a maximum fine of £20,000 or up to 6 months imprisonment. In particular serious cases, the magistrate can refer a case to the Crown Court where there is a possibility of an unlimited fine or up to 2 years in prison.
In the case of work-related neck and upper limb disorders (WRULDs) – the majority of cases are likely to be dealt with in the magistrates' court.
Health & Safety Display Screen Equipment Regulations 1992
In 1992, the UK Government introduced the Health & Safety (Display Screen Equipment) Regulations covering display screen equipment, the activities that are most closely associated with WRULDs. These sets of regulations implemented the EU Directives on Display Screen Equipment.
Similar regulations, the Manual Handling Operations Regulations 1992 were introduced to provide legal standards for work involving the physical movement of loads, which is the most common cause of long term incapacity. Although failure to comply with either set of regulations can result in fines or even imprisonment, in the UK. To date there have been no successful prosecutions under the Display Screen Equipment Regulations. Since 2007 there have been four specific cases brought under the Manual Handling operations in which the fines have been £2,500 or £3,000 plus costs.
In other EU states, similar legislation has been introduced, as all member countries are required to implement the appropriate EU Directives.
What is the civil law surrounding DSE regulations?
Under UK civil (or common) law, an employee who is injured through the negligence of the employer may sue for compensation.
Civil law does acknowledge that the employee has a duty to comply with standards and procedures that the employer has put in place. If this is not the case the court can rule that the employee was wholly or partially responsible for the injury and reduce the compensation accordingly (contributory negligence).
Any damages which the court may award will consider the following factors:
Any loss of earnings, including future earnings
The cost of any modifications to the claimant's lifestyle needs, e.g. modifications to the home where mobility is affected
A figure to compensate for pain and suffering
What are the most common ergonomic injuries in the workplace?
Carpal tunnel syndrome
Tenosynovitis, or 'trigger finger'
Tendinitis
Epicondylitis, or 'tennis elbow'
Vibration white finger, hand-arm vibration syndrome, or Raynaud's disease
Bursitis
Lower back pain

Managing DSE Risks – Step by Step Considerations
When assessing how to manage DSE risks, the following steps should be followed. A risk assessment on its own is not enough. Instead, it should be used as part of a wider system which considers all of a business' health and safety management.
Step 1: The Reasons Why
We have seen the negative impacts for businesses who fail to manage WRULDs – but the impact can also be significant for employees too! Happy and safe employees are good for business. Establishing these systems also shows that you care for your employees correctly.
At the end of the day, employers have a moral, financial and legal incentive to implement robust systems of control – and it's the right thing to do.
Step 2: You Have to Prove It
Businesses should know that when it comes to health and safety legislation and the event of a prosecution – it is the sole responsibility of the defendant to demonstrate they have done what is reasonably practicable – not the prosecuting authorities.
Having the right systems in place is not enough. As a business, you must be able to demonstrate that the processes you have in place are being used correctly and that they are appropriate to the risks employees may face.
Step 3: Identifying Hazards Correctly
When assessing the risk of injuries from WRULDs in a workplace, it is essential businesses are aware of where hazards may arise.
Businesses should address and review:
Task related hazards
Work equipment
Work environment
Characteristics of individuals
There is a need to address the activities of each individual who is using DSE equipment. In view of the volume of work which this would require, there is a strong case for using an online system at their regular workplace. Individual employees should be involved in their own risk assessments. By doing this, not only will a business get a clearer picture of how they are working – but it will help the employee take ownership of the need to work in the correct way.
However, there will be cases where actions resulting from the assessment cannot be implemented by the individual employee. For example; there may be a need for new seating or other equipment which the employee themselves cannot address. These points must be drawn to the attention of the responsible person within the organisation.
---
---
Step 4: There May Be Specific Employee Needs
The assessment may draw attention to issues relating to the physical characteristics of the employee. For example; an individual may be particularly tall, particularly short or have an existing injury or weakness.
An example of the latter case was an employee who had a damaged coccyx and could not sit for long periods but was required to work at a VDU and was also required to drive as part of their job. In this case, a specific assessment was required which resulted in the employee being provided with a seat with a cut out section under the coccyx and a height sit/stand desk so that they could work either seated or standing. The employee was also provided with a car seat cushion also with a coccyx cut out.
To ensure that these special cases are catered for, an online system must form part of a broader system which will also involve access to specialist ergonomic assessments. Most furniture is designed on the basis of anthropometric data which covers 95% of the population. However, to comply with our duties to eliminate or reduce the risks, we are still required to address the needs of the other 5%.
Step 5: Risk Assessment Recordings
If an employer is to demonstrate that they are discharging their duty of care the risk assessment system must retain records of the assessments, any actions required and records that the actions have been carried out.
It must also include provision for regular review of the assessments. This is a legal requirement although the guidance from HSE does not specify the frequency with which the re-assessments should be made. It is also necessary for assessments to be reviewed should any element of the work activity change, for example if the employee is moved to a new workstation which may have different furniture or equipment or be located in a different position.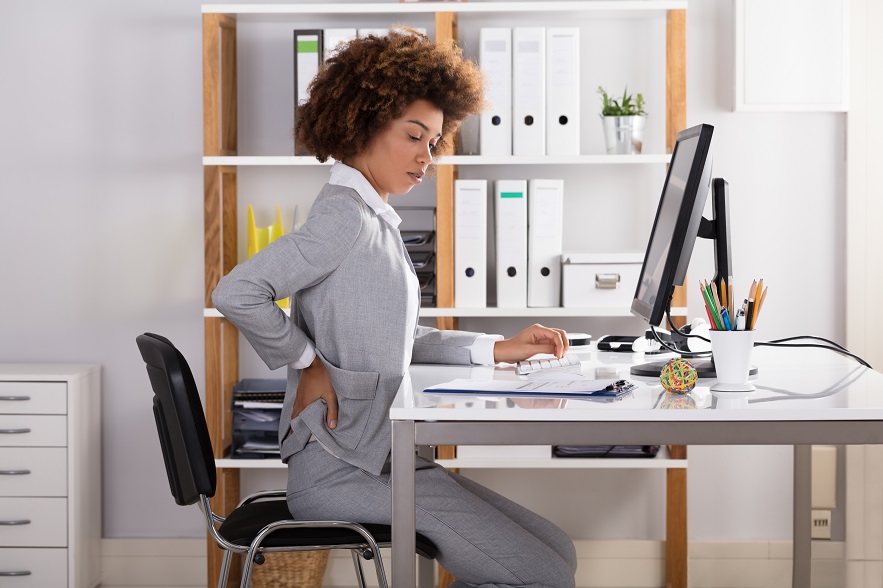 Step 6: Support Employees
Carrying out risk assessments and implementing the controls is not, in itself, sufficient in demonstrating that an employer is complying with their duty of care. It is essential that the individual employees are provided with:
Information regarding the risks to which they are exposed
Instruction concerning the controls which have been put in place to reduce these risks to an acceptable level
Training in how to use the control measures
Risk information should explain the nature of WRULDs and the ways in which they can arise, and in which the individual employee can be exposed, such as working on DSE for excessive periods without a break.
The instruction on controls should outline the policies and procedures that are in place, such as the policy on provision of eyesight tests and corrective glasses. It should also explain the communication processes which have been established for reporting problems to management where the employee cannot personally resolve the issue.
Step 7: Providing Training
Training should be provided to cover issues such as layout of the desktop and adjustment of furniture. In one case in which the author was involved, many employees were requesting special chairs because they were experiencing discomfort. Investigation showed that they were unaware of how to adjust their seats correctly, particularly regarding the height of the backrest. As a result, employees were finding that the lumbar support region of the seat back was applying excessive pressure in the sacral region of the spine because the seat backs were too low. This is an example of an incorrectly used control measure actually causing problems for the user.
A key problem with the provision of information, instruction and training lies in the scale of the need, particularly in a large organisation. Here an e-learning approach can have great value so long as it is backed up by a communication system which allows the employee to get further clarification.
How Cardinus Can Help
Our DSE risk assessment and e-learning software Healthy Working features innovative training and management features – along with Health and Safety Laboratory expertise which is designed to help organisations manage and reduce ergonomics risk.
For a free trial for up to 5% of your workforce email [email protected] or call 020 7469 0200.