We're at an exciting period in our history following the successful launch of Healthy Working, which now opens the opportunity to develop what we do further and offer our clients significantly more products and services.
A Healthier Way to Work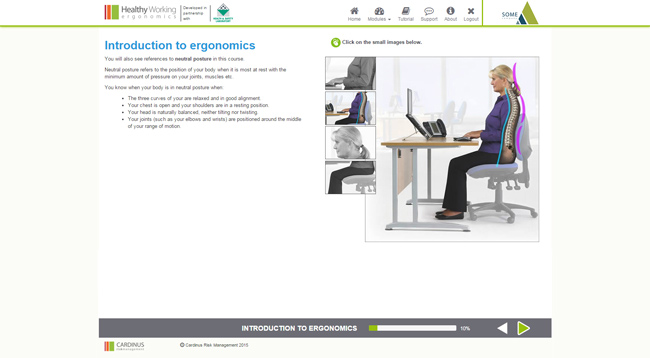 Healthy Working is a direct replacement for Workstation Safety Plus and is globally the most widely used ergonomics software tool. The platform it is built upon is all new and has helped us to refresh, develop and revise our existing e-learning content.
While this has been a major undertaking (and cost the business over £1million) it has also given us the opportunity to change the technology used to deliver our offering, which has enabled us to offer a much wider list of products and services to our clients.
As the modern workplace has changed significantly over the last 10 years it's been imperative that our content reflects the very different risks this change has brought. And so earlier last month we soft-launched our updated and refreshed e-learning content that reflects the modern workplace and looks the part too!
By the end of the year we will have a full suite of over 20 e-learning courses fully redesigned and already have an exciting roadmap of new courses scheduled, including new courses in health, safety and security.
Our ambitious development schedule not only brings up-to-date all our existing e-learning courses, it includes all new courses as well. The following course titles give you an indication of the number of courses we expect to deliver by the end-of the year.
Corporate travel safety
Personal safety
Lone working
Agile workers
Lone wolf
Asbestos awareness
Safe driving for truck drivers
New Courses
However, we have a number of new courses that are available right now. These courses add new e-learning for our customers in specific areas of ergonomics, safety and compliance.
We've updated the existing laboratory ergonomics course to be a stand-alone course in its own right, and, with expert contribution becomes a powerful course that delves deep into the ergonomics issues that laboratory workers.
We've brought in a new fraud prevention course to help organisations teach employees about the essentials of fraud prevention, and to share their policies and procedures in an engaging way, and with interactive features to cement learning.
Our new DSE assessor e-learning course ensures that your ergonomics team can reach remote locations by training a local staff member in DSE assessments.
And finally, we've got a new Manual Handling for the Office course. This course expands our existing manual handling course with more specific content for office-based workers, and is perfect for reducing manual handling injuries in the office environment.
Function and Form
Not only have we updated the way you see the content, we've updated the way you use it too. Our new courses sit all in one place, meaning that every course your employee needs to access can be accessed through the same portal. We call this multi-course functionality.
The multi-course functionality not only means that users can visibly see and access all their training in one place, it has also allowed us to send that information back to our management software. This makes reporting, analysing and measuring training and risk assessments really easy.

Become the Author
As part of this transition to the new technology platform, we're very excited to announce the launch of our authoring tool. The authoring tool allows customers to build their own e-learning content, which is incredibly useful for producing bespoke and niche e-learning on subjects such as policies and procedures and specialist risks.
It utilises a simple to use WYSIWYG system so that even the least technical-minded administrators can quickly build their own content without having to rely on designers and developers.
When making the authoring tool we listened to our customers and looked at the marketplace to design something that we feel is unique. This listening mode brought out two concerns:
Firstly, we wanted to design a tool that that was simple to use and very easily imported into our PACE management system. This would make it easy for customers to manage the roll-out of e-learning, such as in reporting of learning and the measurement and actioning of risk.
(For those of you reading this who are not familiar with PACE. It our powerful end-to-end risk management and training tool, that comes free with all our e-learning.)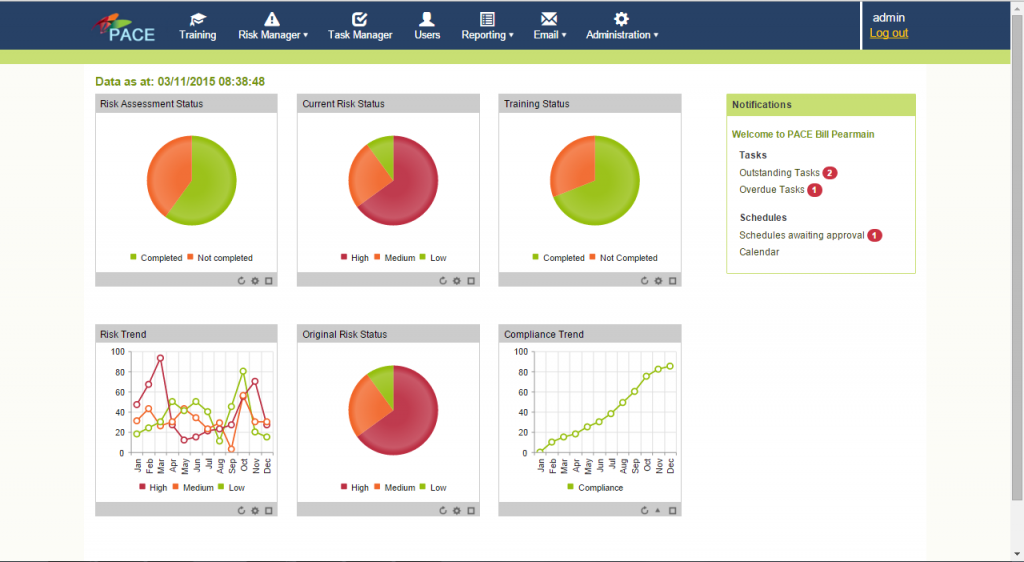 Secondly, looking at the market it was clear that there are learning management systems, which allow the creation of training content, and health and safety management systems (SMS), which allow the creation of bespoke risk assessments. We wanted to bring those two elements together into one solution. That is what the authoring tool does.
Healthy Working was built using our new authoring tool. By the latter part of the year this tool will be available to licence to our customers, ensuring that they have the ability to rapidly create and deploy their own e-learning content.
For more information about our refreshed and updated courses, our new course functionality or our authoring tool, email [email protected] or call 020 7469 0200.
Jayde Kelly is Director of Sales at Cardinus Risk Management. With over 10 years in the industry Jayde has helped hundreds of organisations large and small manage their health and safety risks.