DSE and Ergonomics E-Learning and Risk Assessment Software for Working at Home or the Office
Eliminating health and safety and compliance risks has always been an integral component of managing the workforce. In this global climate, we understand the urgency to address DSE compliance risk, minimise employee injury, and support your workers' health.
As your employees continue to transition from the office to working from home and back again, Healthy Working® supports them by providing relevant, customisable e-learning, risk assessment and learning management.
(Over 3,000,000 employees are currently using Healthy Working across the globe.)

How Healthy Working Works to Keep Your Employees Healthy and Safe, and Keeps Your Business Compliant
Healthy Working is different. Take a look at how it works.
Healthy Working is the solution of choice for 2,000 of the world's largest organisations. We've helped them develop unique solutions using Healthy Working to meet the needs of their workforce, whether they run proactive or reactive ergonomics programs, need global ergonomics assessments, managed programmes, support with compliance and more.
To find out how your business and employees will be healthier and safer with Cardinus speak to our team today.
Adapting to the Way People Really Work
At Cardinus, we are flexible so we can support you through these changes. As the pandemic has progressed, we've adapted quickly to provide the solutions to fit your needs, so every solution we provide is highly customisable. It allows you to easily identify actions and then quickly resolve the issues.
Choose Healthy Working
Multiple language options
E-learning is CPD and IIRSM-accredited, giving validation and assurance of quality
Ergonomics risks assessment and training tailored to the needs of each employee's workstation
Engaging interactive sequences that help improve the educational process
Simple, effective task management and automated communication
Meets DSE regulations and supports global compliance
Experienced knowledge for building global programmes, with rapid implementation and an exceptional level of customer support
End-to-End Support with Training, E-learning, Virtual Assessments, Partners and Consultation
With so many things to tackle on a day-to-day basis, it's difficult to ensure that staff stay safe and healthy.
Remote work is difficult enough, but training staff shouldn't be. We've got over 20 courses focused on everything from health, safety and wellbeing, through to handling data and security policies. Communicating policy and evidencing that it's been read can be difficult, but with our e-learning it doesn't have to be.
We partner with companies across the globe to provide services like ergonomics-specialists, physiotherapy, workers' compensation specialists and technology so you can get the support you need for every part of your health and safety strategy. And now with virtual ergonomics assessments available from local language assessors in 191 countries, you can be sure we can reach all your staff.
Where risks become complex and strategic decisions call for strategic expertise, our internal expert consultants are there to be your helping hand and guide you through difficulty.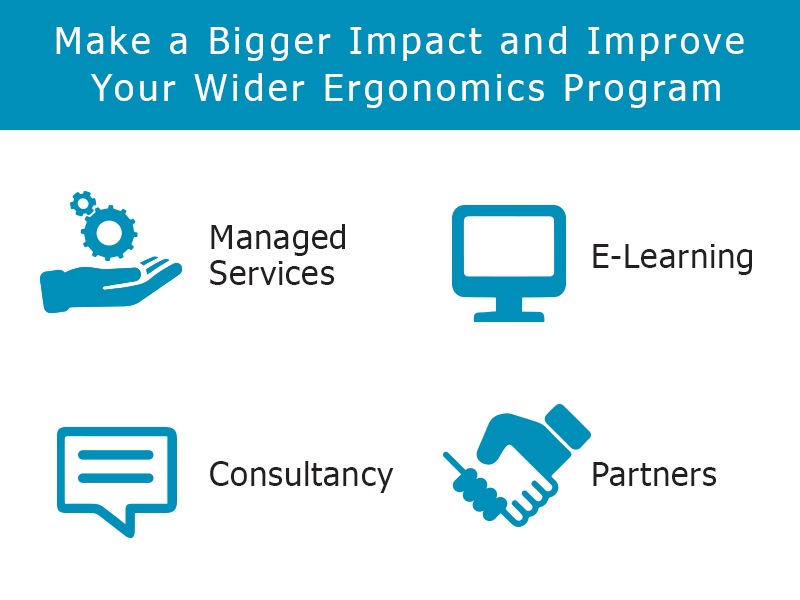 Discover Your New DSE and Ergonomics E-Learning and Risk Assessment Solution for the Home and Office.
We provide a free trial of Healthy Working for up to 5% of your entire workforce. This will help you to evaluate whether the product is right for you and whether it meets your objectives.
Complete the form below to book your trial.