DSE Risk Assessment Software | Healthy Working
The world's leading DSE risk assessment software, developed with the Health & Safety Laboratory.
The DSE Solution of Choice for 2,000 of the World's Largest Organisations
Healthy Working is an award-winning DSE risk assessment solution that helps employees manage their risk and provides you with significant return-on-investment.
We know that many are struggling with their current homeworking population. We also know that as workplaces open up many people will either not return immediately, work more flexibly between home and an office or move to a permanent homeworking situation.
Healthy Working supports your staff wherever they are.
Here's how it benefits you and your organisation:
Drastically improves compliance rates
Reduces administration time and cost
Improves employee productivity and lessens injury-related discomfort
Allows you to easily identify actions and quickly implement solutions
Why Choose Healthy Working? There's Plenty of Reasons.
Working together with the Health & Safety Laboratory to deliver cutting edge ergonomics advice and technology
A software solution you can trust; the world's most popular DSE software with 2,000,000 end users
Built with the benefit of over 20 years of success providing DSE risk assessments
Caters for all modern office technology, working practices and environments
Full authoring capabilities making content even more specific to your organisation
Multi-language capabilities for a truly global roll-out
See our whole range of DSE and ergonomics software solutions
Going Beyond the DSE Regulations to be Truly Relevant for the Modern DSE User
Healthy Working delivers e-learning training that is tailored to the needs of each individual employee through a number of variants:
Desktop computer user
Laptop computer user
Combined desktop and laptop user
Tablet user
Laboratory ergonomics
Student/young person
DSE assessor
Where needed, each variant addresses further user requirements by including content for expectant and new mothers, dual monitor users, smart phone use and more.
Tried and Tested by Thousands of Organisations
We encourage every organisation considering Healthy Working to trial it free of charge before they make a final decision. We survey every trial participant for their feedback and the results are impressive:
98% of users consider Healthy Working an effective solution.
99% of users feel that Healthy Working is easy to use.
90% of users are more likely to adjust their workstation after completing Healthy Working if they experience discomfort.
100% of users feel that Healthy Working is easy to understand.
Packed with the Very Best Features
Healthy Working acts to help you manage your DSE risk assessment process efficiently as possible, and includes many features to streamline DSE risk management:
Automated email communications for rapid roll-out
User risk assessment resolution gives users immediate answers to the issues they can fix themselves. This allows your DSE assessor team to concentrate on users that need specialist attention
Employee and item risk prioritisation ensures DSE risk assessments issues are easy for your team to identify
In depth, flexible management reporting enables you to identify gaps in your DSE compliance process and apply resources where they're needed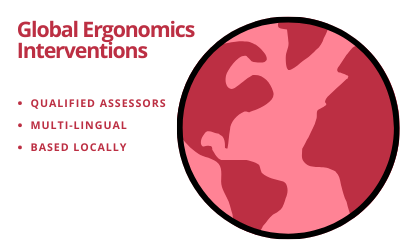 A Global Solution for a Global Workforce
Alongside the e-learning, self-assessments and action plans that Healthy Working provides, we can offer global telephonic and video-based interventions. Available in many countries across APAC, EMEA, the Americas and Africa.
Assessors will be local, multi-lingual and certified professionals.
Discover Your New DSE Risk Assessment Solution, Healthy Working
Complete the form below for more information and book a free trial.
If Healthy Working doesn't demonstrate a return on investment, we will give it to you for FREE. Plus access to all our H&S e-learning programs, for ONE YEAR.
What our customers say about our DSE E-Learning software
5

out of

5

based on

3

reviews.

Overall rating:
Second to None
★★★★★
"
The ability for assessors to view their teams online and not having to physically visit each person only those who need further support allowing a faster and focused response. The support team are really on the ball too, always prompt to respond to any queries (maybe because they don't get many) which may be a reflection of the product! And how could I not mention John Rees, his knowledge of the system is second to none and he's always available to help and support.
"
More Than Tick Box Exercise
★★★★★
"
The risk assessment module on the workstation safety is excellent and has reduced the amount of DSE assessments carried out by our health and safety advisers as staff are able to implement changes themselves.
"
Compliance has Improved!
★★★★★
"
With 350 employees, Sussex Downs College needed a solution that was cost-effective and provided a comprehensive service, while meeting their DSE compliance requirements. Workstation Safety Plus offered just that.
"