April 26th and April 28th, 2016, and some of the world's leading ergonomics speakers head to two forums on either side of the US to talk about the most pressing issues in workplace safety today.
In San Francisco and Chicago, attendees were treated to industry-leading thought, best practice, statistics, guidance and cutting-edge software and hardware across two afternoons. In each, over 75 industry guests attended from many high profile, international organisations.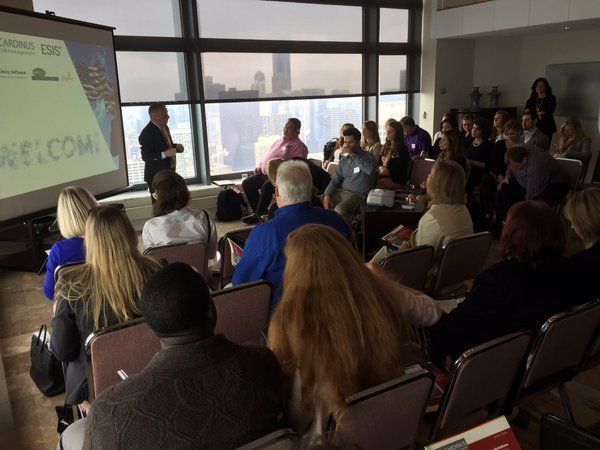 Jon Abbott's first talk of the day covered an important topic that's receiving much press globally, the issue of device use by young people and the latent effect on posture will likely cause residual neck and back pain as they enter the workforce.
The use of technology in our schools, coupled with the proliferation of gadgets at home is increasing injury rates on young, developing bodies due to bad posture. As these young people enter the workforce, the cost to employers is likely to be significant.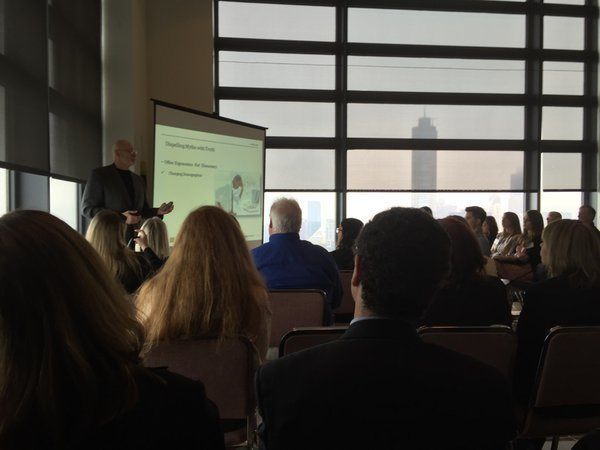 Other talks, from speakers including Anthony Phillips of WellKom International, Ann Hall of Bakker Elkhuizen, Lee Huber of ESIS and Cardinus' own Bill Pace and Ryan Pavey, bought expertise, experience and varied outlook to the talks.
Of course, that's not all we put on for them. With homage to our British roots, we plied the welcoming audience with a range of traditional English teas and cakes, including tea cakes, scones with fresh cream and strawberry jam, delicious chocolate eclairs and lemon curd tarts to whet their whistle while they networked.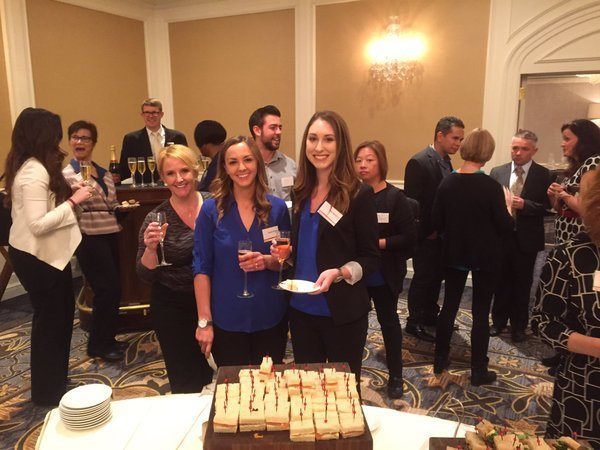 And once it was all over, we brought out the finest English sparkling wines for a more refined feel to the afternoon close.
Of the San Francisco event, Jon Abbot said ""I valued the opportunity of collaborating with our partners to bring an event that provided tactical solutions to real world ergonomics and wellness problems."
I'm delighted that so many global and high profile organisations were represented and were able to engage with Cardinus, our partners and fellow professionals in a proactive and positive way."
5 presentations on the latest in ergonomics and health and safety from our US show.
Jon Abbot's Opening Talk: Cardinus Ergonomics Forum US 2016
Jon Abbot opened both our the Chicago and San Francisco Ergonomics Forums with this talk on eye-opening statistics concerning how the next generation of workers, the young people of today, will bring their prevailing health problems direct to the workplace.
As device use has increased among young people, so too have the levels of back and neck pain related to poor posture because of the way they use these devices. This will cause not only untold long-term injuries, but the burden will be on employers to address these issues.
Most illuminating statistic:
67 million Americans likely to be diagnosed with arthritis by 2030.
Speaker's LinkedIn Profile: https://uk.linkedin.com/in/jonabbottcardinus
The Whole Life/Whole Organisation, Next Gen Approach to Risk Management
Anthony Phillips, of WellKom International came to both events to tell attendees about the importance of organisation-wide approaches to ergonomics risk management and exactly what it means to carry it out.
With a well-planned risk management programme organisations can improve upon employee performance, safeguard against employee presenteeism and make the workplace happier and healthier.
Most illuminating statistic:
Loneliness can cause 29% greater risk of coronary heart disease.
Speaker's LinkedIn Profile: https://www.linkedin.com/in/wellkomanthonyphillips
Office Ergonomics: Principles and Practice in a Multi-Tiered System
Lee Huber of ESIS gave his talk on the various solutions and practices of office-based ergonomics. Included were all the usual suspects, as well as a few myths dispelled, such as the universality of sit/stand desks (which should never be forced on all your employees).
We're given some detail on emerging issues, such as CTS, postural deviation and other types of ergonomics-related trauma, and of course, we are treated to some of the ways these issues can be negated.
Most illuminating statistic:
Sitting subjects the spine to 50% more stress than standing.
Speaker's LinkedIn Profile: https://www.linkedin.com/in/lee-huber-08832448
The Phenomenon of Sit-to-Stand Desks
Ann Hall of BakkerElkhuizen gave this wonderful talk on the phenomenon of sit-to-stand desks and how organisations can use them and are using them to limit exposure to risk and reduce the chances of injury. Particularly we're informed how long employees should be using them for, how to get employees to use the desk and a great deal of statistics and information to support these claims.
Most illuminating statistic:
42% of Americans will be obese by 2030.
Speaker's LinkedIn Profile: https://www.linkedin.com/in/ann-hall-74901b15
The Ups and Downs of Sit/Stand Workstations: An Observational Case Study
Recently Paula Lewis, Principal Consultant at BSI got the chance to study an American call centre where the majority of individuals were using sit/stand workstations. Over two days she gathered information from the call centre, then spent time analysing the results. Fortunately for the attendees she presented it at our Ergonomics Forum and produced some fantastic insight.
Most illuminating statistic:
Fixed height work surfaces had much higher (~15%) percentage of correct keyboard height than electric work surfaces.
Speaker's LinkedIn Profile: https://www.linkedin.com/in/paula-lewis-a142973
World-leading Ergonomics and Risk Assessment Software – The Timeshare Pitch
Bill Pace and Ryan Pavey of Cardinus gave a short talk about some of the technology and software we have at our disposal to eliminate risk. These include the award-winning Workstation Safety Plus, SitStand COACH, AltMOUSE and CtrlWORK.
Most illuminating statistic:
Workstation Safety Plus has helped reduce injuries by 50%
Speakers' LinkedIn Profiles: Ryan Pavey, Bill Pace.
We hope to be delivering further enlightening, educational and practical ergonomics forums in the near future, so please keep an eye out on our events pages for updates. In the meantime, be sure to check out our DSE training software, as well as our other DSE solutions. For more information send us an email, or call us on 0207 469 0200.