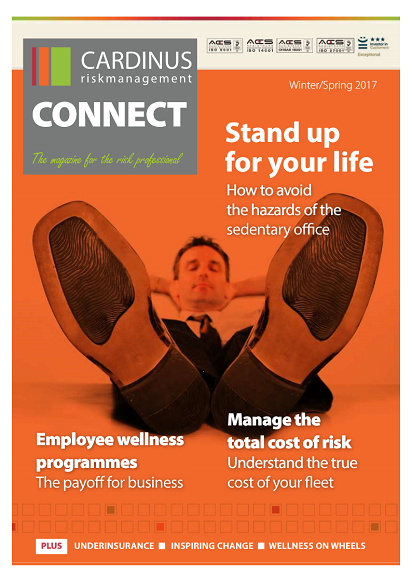 In the latest edition of our risk management magazine, Cardinus Connect, we lead with an article that explores the relationship between our increasingly sedentary working lives and diseases such as cardiovascular disease and other associated diseases.
In Beating the Hazards of the Sedentary Office, Jonathan Daniel and Gareth Jones of Fitback, look into the rise in the level of certain diseases alongside the rise in sedentary work practices. Particularly the pair look at environmental and behavioural changes and how these might help us remove and reduce some of these office hazards.
With UK workers spending between 65% and 75% of their working day sitting, the time to stand up for your life is here.
The magazine has plenty of other fantastic articles in it too. We learn about the imperatives on organisations of introducing employee wellness programmes, we learn how to inspire change in your industry and organisation with a look at the Highways Agency, we learn how the Total Cost of Risk is measured and utilised by large fleet operators, plus much more.
Within the magazine we look across the spectrum of risk, including fleet risk, ergonomic risk, health and safety, and, in Underestimating Underinsurance, Jamie Truscott looks at property risk.
Get your copy of Cardinus Connect Winter/Spring 2017 for free, here.
A full list of the articles in our Winter/Spring 2017 edition:
Beating the Hazards of the Sedentary Office, Jonathan Daniel and Gareth Jones
Employee Wellness Programmes, Andy Hawkes
Underestimating Underinsurance, Jamie Truscott
Inspiring Change, Nigel Heaton
Add-ons in Office Ergonomics, Meghan Kress
How to Effectively Manage the Total Cost of Risk, Andy Price
Memo to Humankind Managers, Ian Chong
Trends in Health and Safety Prosecution, Mark Preston
Potential Long Term Effects on Children from Daily Backpack Wearing, Dr Romina Ghassemi
How Technology has Become a 'Good Virus', Matthew Elson
Recognising and Reducing the Hidden Costs of Incidents, Mark Chessman
The Importance of Ergonomics as a Business Tool, Cynthia Roth
Wellness on Wheels, John Davidge
Stand Up and Be Counted, Jon Abbott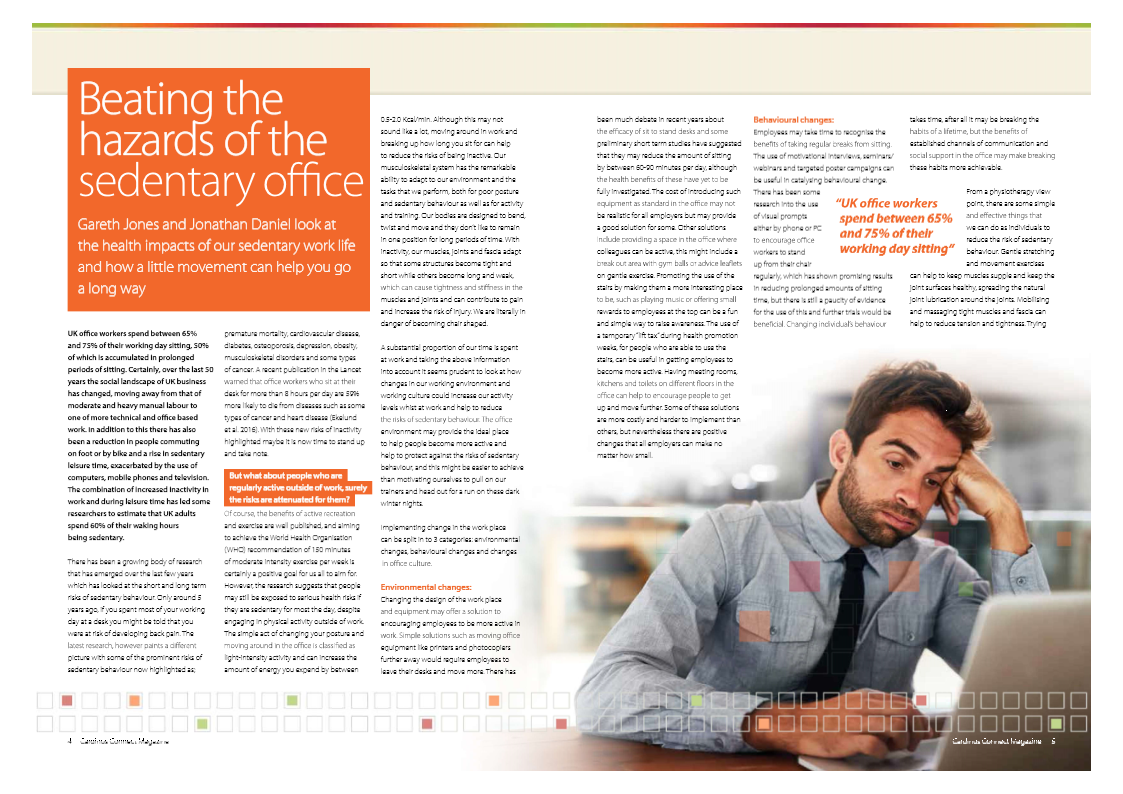 You can download your free copy of Cardinus Connect here, or request a free print version by emailing [email protected].